WTI crude oil price rally continues as it hits $83. Investors bet for the price to reach $100 at the end of the year. Ally Financial, Union Pacific investors, prepare for quarterly earnings.
Crude oil price remains bid despite trading well above the $80. At this rate, many investors anticipate $100 by the year's end, and considering the energy crisis; we should not discount such a move.
Dow Jones made a new all-time high as the U.S. dollar remained offered so far this week. The move higher in the U.S. equity markets is nothing short of impressive as investors keep buying every dip.
But despite the frenzy in the U.S. markets, the European equity markets lag their American peers. All European indices started the trading day in red, down between -0.25% and -0.5%. The most significant decline is seen in Spain, where the Ibex is down -0.55%. Nevertheless, the European markets remain close to their recent highs, and all they need to get back higher is yet another rally in the United States.
Gold, natural gas, silver, copper, and even the WTI crude oil price, are lower today. But the move lower looks merely like a correction after the rally seen recently.
Economic Events to Consider Today
No economic event is scheduled during the European session, meaning that the focus today is on what's happening in the North American session. The Unemployment Claims are expected at 298k vs. 293k previously, and the Existing Home Sales in the United States are expected to reach 6.1 million vs. 5.88 million previously.
Today's markets to watch are oil, Ally Financial, and Union Pacific.
WTI Crude Oil Price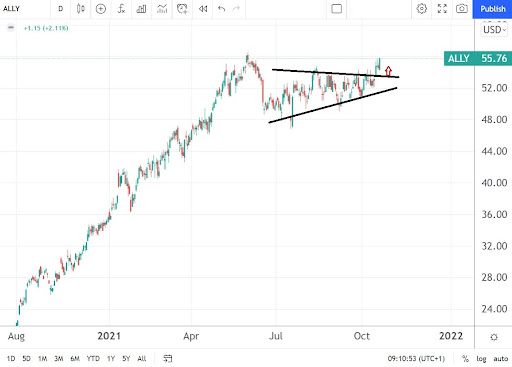 The series of higher highs and higher lows continues as the oil price trades well above $83. Moreover, the market evolves in a rising channel and reacts every time it reaches the channel's lower edge. Only a break below $76 will turn the bias bearish short term. Otherwise, expect buyers to keep coming in and, until the series of higher highs and higher lows continues, the price action remains bullish.
Ally Financial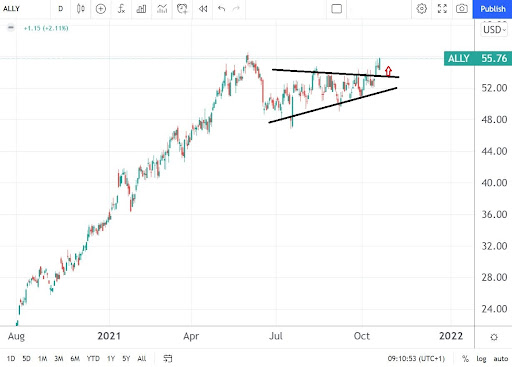 Ally Financials reports its Q3 2021 earnings today, and the stock price broke out of a bullish triangle ahead of the conference call. It stands ready to make a new high, and the $48 level provided important support. While above, the bias remains bullish.
Union Pacific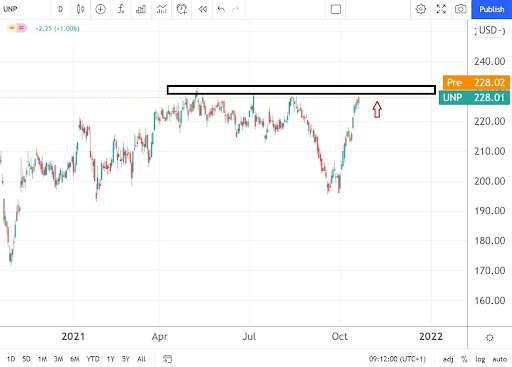 Another company that reports quarterly earnings is Union Pacific. The stock price traded between $220 and $225 most of the year and found support at the round $200 level. Since then, it rallied all the way back to the yearly highs and now threatens to break above. A daily close above $230 should trigger more strength.
Winners and Losers
WTI crude oil price hovers around its recent highs, and the Dow Jones made a new all-time high. On the flip side, the U.S. dollar remains weak, especially against the Australian dollar.
Credit: Source link