UnitedHealth Group (NYSE: UNH) releases its Q3 2021 earnings today. The stock price sits close to record levels ahead of the release.
UnitedHealth stock price continues its rally ahead of the quarterly earnings. The company is scheduled to release its Q3 2021 earnings today at 08:45 AM ET, and investors expect EPS of $4.42.
The stock price has surged in the last years, and the 2020 stock market decline caused by the COVID-19 pandemic is merely visible. Investors have pushed the price up 15.08% YTD and 21.76% in the last 12 months.
For Q3 2021, investors expect the EPS to be higher by 25.82% compared to the same period last year. Also, the annual revenue estimates for the fiscal period ending December 2021 are $283.85 billion.
UnitedHealth is a company that knows how to reward its shareholders. It pays a hefty dividend, with a dividend yield of 1.44% and a dividend growth history of 12 years.
What Do Analysts Say About the UnitedHealth Stock Price
Almost all analysts are bullish. Out of the 45 analysts covering the UnitedHealth stock price, 37 have issued buy ratings, and 8 have neutral ratings. No analyst has issued sell ratings.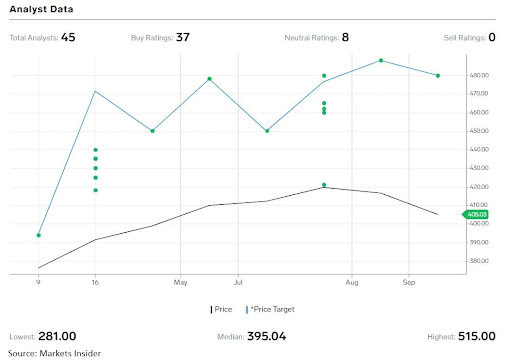 Most recently, SVB Leerink, Morgan Stanley, and Stephens Inc. have maintained their buy rating with different targets for the UnitedHealth stock price. As such, SVB Leerink sees the stock price at $480, Morgan Stanley at $488, and Stephens Inc. at $460.
UnitedHealth operates with a gross profit margin of 24.31%, much smaller than the 55.29% sector median. The stock price trades with a P/E ratio of 21.63 in 2021, estimated to decline to 12.58 by 2025. 
Credit: Source link