Inflation in the United States has reached a four-decade high in December. Yet, the federal funds rate is close to zero. As a traditional gold against inflation, gold protects a portfolio from rising prices. Here are three gold mining stocks to buy: Newmont Corporation, Gold Fields, and Barrick Gold. 
US inflation data for December showed that the prices of goods and services rose 7% YoY – the fastest pace in almost 40 years. Despite exceeding the Federal Reserve's target by a lot, the central bank does not plan to raise the federal funds rate to fight inflation.
At least, not yet. It keeps buying bonds under its quantitative easing program, and the first rate hike is expected only in March.
How can investors protect their portfolios against rising inflation? One way is to get exposure to gold, a traditional hedge against inflation. Here are three gold mining stocks to buy to hedge the portfolio against inflation: Newmont Corporation, Gold Fields, and Barrick Gold.
Newmont Corporation
Newmont is an American company from Denver, Colorado. It employs close to 15,000 people, and it was founded in 1916. It operates gold production and exploration fields and mines in various countries such as Peru, Chile, Ghana, Canada, and the United States.
Newmont's stock price is mostly flat in the last twelve months. As the price of gold underperformed, gold mining stocks had a hard time performing too.
However, gold mining companies pay a dividend with a yield higher than in most other sectors. For instance, Newmont's forward dividend yield is 3.58%, and the dividend payout ratio is 73.53%. Moreover, the five-year dividend growth rate is 77.46%.
Gold Fields
Gold Fields is a South African gold mining company based in Sandton. It has international operations in countries such as Chile or Australia, and its shares are listed on the New York Stock Exchange under the ticker GFI.
The stock price has been up +16.29% in the past twelve months, and the company pays a dividend too. The dividend payout ratio is 30.95%, and the five-year growth rate is 49.92%.
Another attractive factor is the gross profit margin, higher than the sector median by 43.37%.
Barrick Gold
Barrick Gold is a Canadian gold and copper mining company. Headquartered in Toronto, it operates mines in Canada, Argentina, and Tanzania, to name a few countries.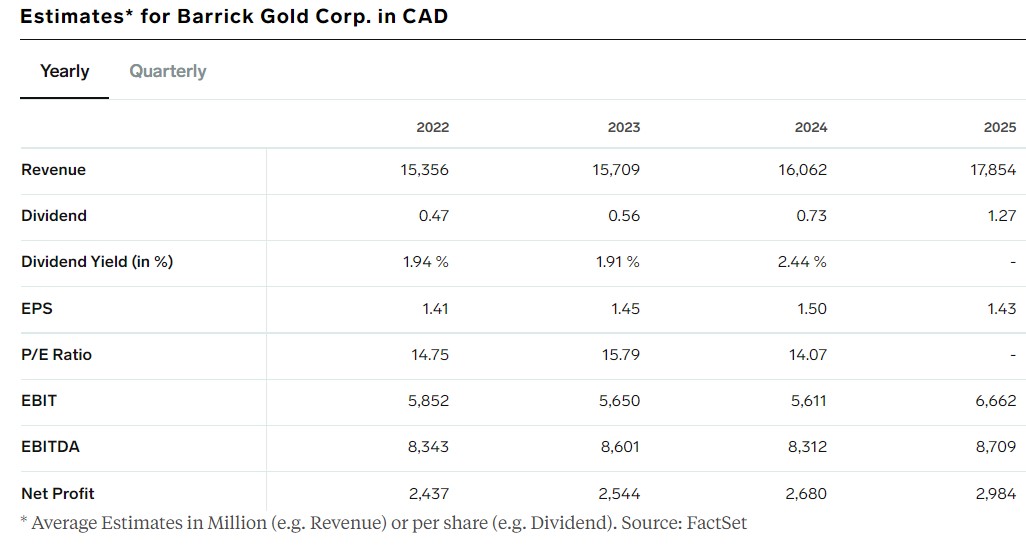 It pays a hefty dividend too, and its gross profit margin also exceeds the sector median – 41.37% vs. 30.39% sector median. At the current stock price, Barrick Gold has reached a market capitalization of $33.77 billion.
Credit: Source link