The European banking sector rebounded from the pandemic lows. What are the best European banks to add to the portfolio?
The European banking sector recovered from the pandemic lows but underperformed other sectors in 2021. The timid recovery met strong headwinds from depressed interest rate levels in Europe as the European Central Bank and the Swiss National Bank kept interest rates at their historic lows.
Yet, signs of monetary tightening appear on the horizon. For example, the Federal Reserve of the United States announced last week that it doubles the pace of tapering its asset purchases in a sign that faster tightening lies ahead. Moreover, the Bank of England went one step further and delivered a rate hike.
If central banks in other developed economies move towards tightening their monetary policies, it won't be long until the market prices in similar actions in Europe. The banking sector stands to outperform in a rising interest rate environment so investors may start adding European banks to their portfolios to catch the trend early.
Lower loan loss provisions, when compared to last year, have helped banks' profitability in 2021. Here are three European banks to buy as the banking sector's rebound continues: Santander, Deutsche Bank, and Credit Suisse.
Santander
Santander is a Spanish bank serving over 150 million customers in different regions of the world, such as North and South America and Europe. Only 9% of the company's customers are from Spain, reflecting a diverse customer base and thus little exposure to only one economy or region.
The company reported a profit of EUR 6.3 billion in the first nine months of the year and the profit distribution is well balanced across the regions. The stock price underperformed this year, thus improving its valuation metrics.
Deutsche Bank
Deutsche Bank is one of the largest banks in Germany, and it was founded in 1870. It provides banking and investment services to retail and corporate customers and employs over 85,000 people. It stock price is up +11.56 YTD, and at the current market price the P/E ratio is 9.48.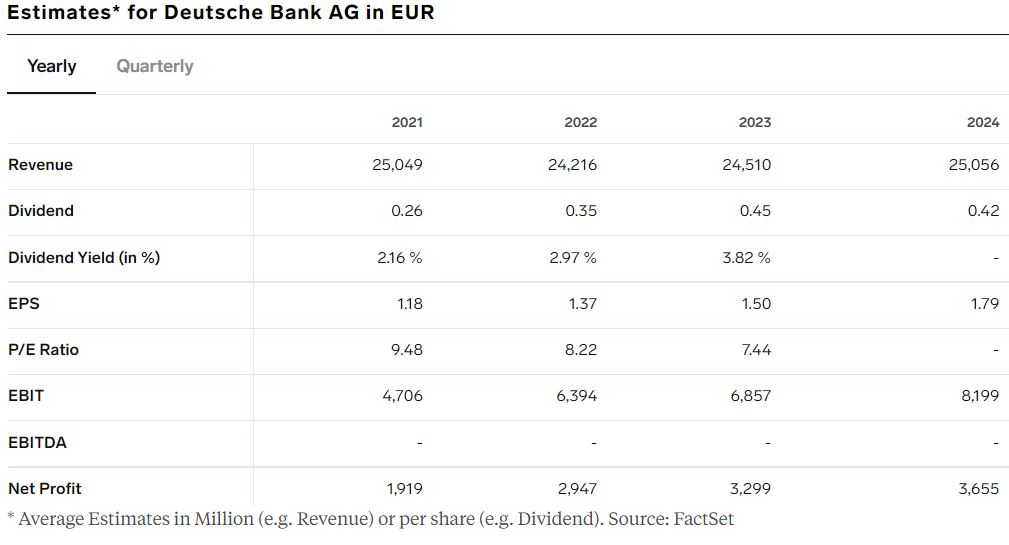 Credit Suisse
Credit Suisse was founded in in 1856 in Switzerland and it now serves customers in over 50 countries and employs close to 50,000 people.
In the first nine months of the year, Credit Suisse reported higher net revenue compared to the same period in the last five years, and the stock price is depressed due to some internal problems the company faced recently.

Credit: Source link