Ferrari, Tesla, and Honda Motor Corporation top the list of the best auto stocks to buy at the start of the new trading year. 
The auto industry goes through a big transformation as the transition to green energy requires the automakers to focus on electric vehicles in the years ahead. While costly, the process will reward the companies better positioned to take advantage of the green race.
Here are three names to consider: Ferrari, Tesla, and Honda Motor Corporation.
Ferrari
Ferrari is one of the most famous luxury car brands in the world. Listed on the New York Stock Exchange (NYSE) under the ticker RACE, Ferrari is based in Maranello, Italy, and employs over 4,500 people.
Ferrari's stock price is up 12.77% in the last twelve months, and the company pays an annual dividend forecasted to reach EUR1.36 in 2022 and to grow to EUR2.14 by 2024. The company is in the process of revealing a new organizational structure this January, and the EPS are forecast to rise by 50% in the next four years.
One of the most attractive metrics is the gross profit margin, much higher by the sector median by 43.73%. This is perhaps one of the reasons why most analysts are bullish on the stock price. Out of the 20 analysts covering the stock, 17 have issued buy ratings and 2 neutral ones. Only 1 analyst has issued a sell rating. Most recently, Morgan Stanley has maintained its buy rating for Ferrari's stock price with a price target of $350.
Tesla
Tesla announced this week that it delivered more cars than the market expected in the fourth quarter, and the stock price soared from a little over $1,050 to close to $1,200.
The company does not pay a dividend, but it is a leader in the electric vehicles market. While Tesla's valuation is sky high, investors are not afraid of buying shares even if the P/E ratio exceeds the sector median by over 1,600%.
Tesla recently made it on Morgan Stanley's auto stocks list and for now, the stock price has met resistance at $1,200.
Honda Motor Corporation
Honda is based in Tokyo, Japan, and it has listed its shares on the NYSE under the ticker HMD. While the stock price is almost flat in the last year, Honda pays a hefty dividend, as reflected by the dividend yield of 4.22% for the last twelve months and the dividend payout ratio of 37.46%.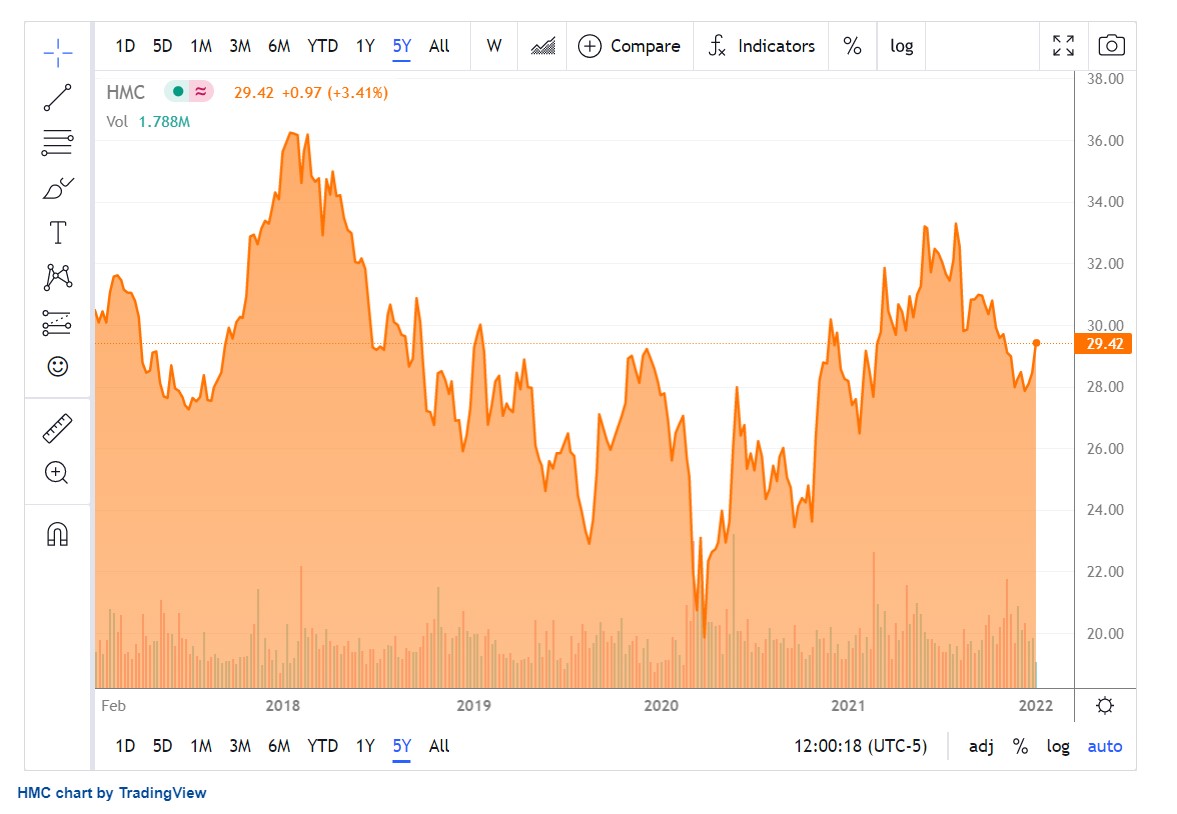 Credit: Source link