The stage is set for a potential merger between Stagecoach Group and rival coach company National Express. Takeover talk sent Stagecoach shares up to 27% higher on Tuesday, but they could go even higher.
Did you see the Stagecoach Group (SGC) share price surge on Tuesday and sit at the gapped-up share price ever since? This one-month stock chart shows what I mean: 
Stagecoach Group One-Month Price Chart (source: Yahoo! Finance)
It happened when the board of rival coach company National Express (NEX) confirmed it was actively discussing an all-stock merger between the two companies. Since NEX is about three times bigger than SGC, this would be a takeover in all but name, and Stagecoach shareholders would get 0.36 National Express shares for each of their current shares.
So, should you be buying Stagecoach shares now? Let's quickly recap on what Stagecoach is and does, then I'll attempt to answer that question.
What Is Stagecoach Group plc?
Stagecoach Group plc is a UK-based provider of road and rail public transportation services. So is National Express, so there are plenty of synergies. I can't quite remember, but I read somewhere that Stagecoach had considered National Express as a takeover target some time ago, so now the tables have turned.
Should You Buy Stagecoach Stocks Right Now?
The Stagecoach share price was sitting at around 400p-per-share six years ago, which is almost five times higher than it is today. While a return to that level is highly unlikely, what we do know is that stocks often head even higher after an initial price surge on takeover talk, and you only have to look at the Morrisons Supermarkets (MRW) six-month price chart to see what I mean: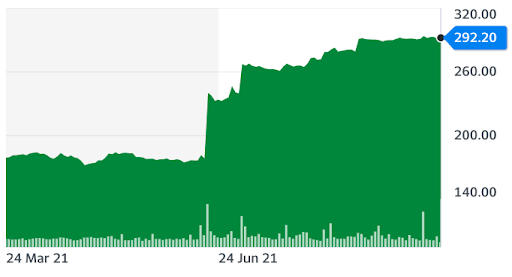 Morrisons Supermarkets Six-Month Price Chart (source: Yahoo! Finance)
Back to Stagecoach: evidently the board of National Express believes that Stagecoach stock is undervalued, or at least it was when they made their bid.
Where Can You Buy Stagecoach Shares Today?
Stagecoach shares are listed on the London Stock Exchange (LSE) with the ticker symbol SGC. You can buy shares via any brokers that have access to the LSE, and these are two of the best brokers for you to try:
eToro
eToro is one of the world's leading multi-asset trading platforms offering some of the lowest commission and fee rates in the industry. It's social copy trading features make it a great choice for those getting started.
Register with eToro instantly
Pepperstone
Pepperstone was founded in 2010 in Melbourne, Australia by a team of experienced traders with a shared commitment to improve the world of online trading. Frustrated by delayed executions, expensive prices and poor customer support, they set out to provide traders around the world with superior technology, low-cost spreads and a genuine commitment to helping them master the trade. Their mission is to create a world of tech-enabled trading where ambitious traders can embrace the challenge and opportunity of global markets.
Register with Pepperstone instantly
Credit: Source link