U.S. equity markets corrected after Fed's Kaplan, Rosengren, announced the selling of their stocks. Oracle releases its Q1 FY2022 earnings today.
The U.S. equity market indices ended the previous week at their lows. The S&P 500 outlook turned slightly bearish as two Fed officials announced selling their equity holdings on ethics concerns.
We will not debate whether it is ethical or not for policymakers to trade the stock market, but the announcement raised some eyebrows as the Fed's September meeting looms large. The Fed is expected to announce the tapering of its bond-buying program, a decision that may spook financial markets.
Leaving that aside, the week ahead is full of important events for financial markets. Inflation data comes out in the United States, United Kingdom, Eurozone, and Canada. Higher than expected data would put further pressure on the stock market as investors will turn to the safety of the U.S. dollar.
The price action in the currency market continued in the same direction as last Friday ended – with investors buying the U.S. dollar. The EUR/USD pair fell below 1.18 in early Asian trading, and the dollar gained against all of its G10 peers, too.
On the commodity front, the price of oil is back above $70. Oil still finds buyers on every dip below $70, and so the bullish bias persists. Gold is unable to trade above $1,800.
Economic Events to Consider Today
No important news is scheduled for today, as it is usual for Mondays. The equity markets, therefore, will lead the way once again.
Today's Markets to Watch
Today's markets to watch are S&P 500, Oracle, and Apple.
S&P 500 Outlook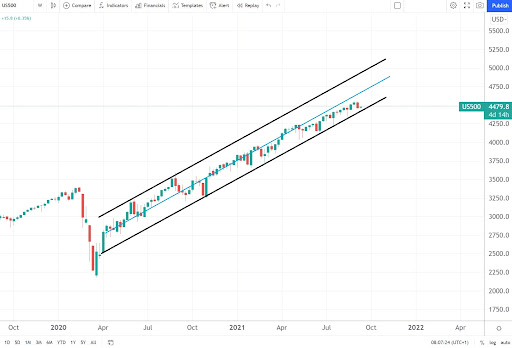 Despite the bearish price action seen last week, the S&P 500 outlook remains bullish. A close look at the bigger picture reveals that the S&P 500 index remains in a bullish trend. Moreover, last week's decline is merely a small correction. As long as it remains in the rising channel and the series of higher highs and higher lows continues, bulls will keep buying every dip.
Oracle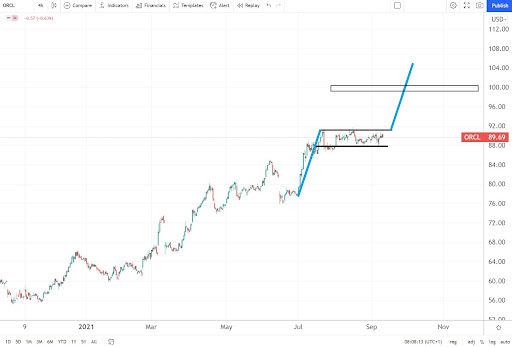 Oracle formed a bullish flag during the summer months and the $100 mark looms large. The company reports its Q1 FY2022 earnings today and a daily close above the upper edge of the flag pattern would trigger a run to $100.
Apple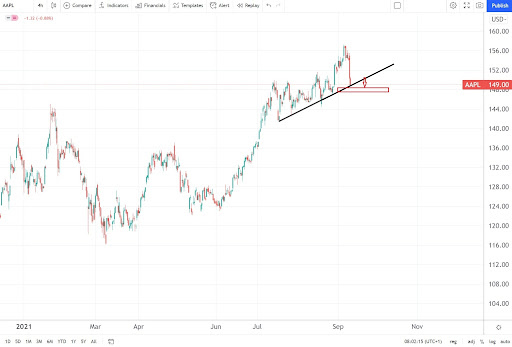 Apple had a couple of sessions last week. The share price declined from the highs and currently sits on dynamic support given by a rising trendline. Investors prepare for the Apple event scheduled for tomorrow, waiting to see what new products Apple will unveil. A dip below $144 would trigger further weakness.
Winners and Losers
The U.S. dollar and crude oil are stronger at the start of the trading week while euro pairs look vulnerable. 
Credit: Source link