CarMax (NYSE: KMX) investors await the Q2 FY2022 earnings today. The stock price is up by 55% this year alone and sits at record highs ahead of the earnings call.
CarMax stock price keeps surging, reaching record-high levels ahead of the Q2 FY2022 earnings. The company will release the quarterly results today at 09:00 AM ET.
The company is one of the leaders in the automotive retail industry in the United States and has benefited the most from the COVID-19 pandemic. Prices of used cars have surged, leading to improved profitability for CarMax.
Investors noticed and sent the price to record highs. The stock price gained by 55% YTD as the numbers of the used vehicle retailer improved. Investors await EPS of $1.89, higher by 5.14% compared to the same period last year.  
What Do Analysts Say About CarMax Stock Price?
Analysts are optimistic about CarMax stock price, despite the rally in the last months. Out of the 30 analysts that cover the CarMax stock price, no one has sell ratings, and only five have neutral ratings, the rest being bullish.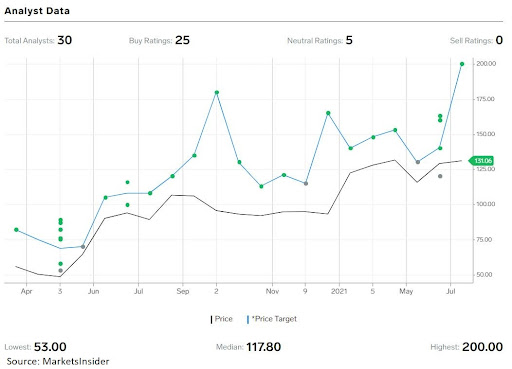 Bank of America Merrill Lynch has a target of $200 for the CarMax stock price and has recently maintained its buy recommendation. The same did Stephens Inc., with a target for the stock price of $163.
CarMax operates with a gross profit margin trailing 12 months much lower than the sector median – 15.06% vs 35.90%. The company has beaten the earnings expectations for the last four consecutive quarters, so the likelihood of doing so again remains high. The annual earnings estimate for the fiscal period ending February 2022 is $26.91 billion.
Credit: Source link