PepsiCo (NASDAQ: PEP) stock price remains well bid despite the recent stock market rout. Investors await the Q3 2021 earnings scheduled for release early next week.
PepsiCo needs no introduction as it represents one of the global brands everyone is familiar with. The company prepares to release its Q3 2021 earnings on the 5th of October, and PepsiCo stock price hovers close to record levels.
The company pays a dividend. PepsiCo is known for its pro-dividend policy, and it remains an attractive investment for traders in search of dividend-paying companies. It has a whopping 49 years of dividend growth history and a five-year dividend growth rate of 7.59%. The dividend payout ratio is 68.91%, and the dividend yield is 2.86%.
PepsiCo stock price is almost flat YTD and up by 8.52% in the last 12 months.
What Are the Expectations for the Q3 2021 Earnings?
PepsiCo has beaten the EPS expectations for the previous four quarters in a row. For Q3 2021, investors expect EPS of $1.73, up by 4.42% compared to the same period last year.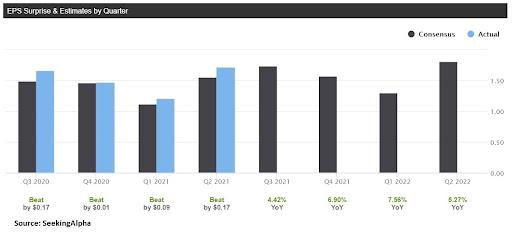 Analysts are optimistic about PepsiCo stock price. Out of the 30 analysts that monitor the company, only one has issued a sell rating, while 13 have a neutral rating. The rest are bullish and issued a buy rating.
Most recently, Deutsche Bank maintained its hold rating for the PepsiCo stock price with a price target of $158. Guggenheim, on the other hand, maintained its buy rating, with a much higher target for the PepsiCo stock price – $175.
The company operates with a gross profit margin of 54.30%, much higher than the 34.38% sector median. 
Credit: Source link