Paychex (NASDAQ: PAYX) investors await the quarterly earnings conference call. The company is scheduled to release its Q1 2022 earnings on the 30th of September at 09:30 AM ET.
Paychex stock price is in a bullish trend and quickly recovered from the 2020 COVID-19 pandemic lows. It sits at record highs ahead of the quarterly earnings, and investors expect EPS of $0.8 to be announced tomorrow when the quarterly earnings conference call is scheduled.  
Paychex is an American IT corporation with activities in the data processing and outsourced services industry. Among others, it provides human capital management solutions and insurance services in the United States and Europe.
The company pays a quarterly dividend and has a dividend payout ratio of 78.12%. Moreover, it has a dividend growth history of ten years.
Paychex Stock Price's Rise Confirms the Positive EPS Surprises
Paychex has beaten the EPS estimates for the previous four consecutive quarters. Therefore, the bias is that it will also do so for the last quarter. The EPS of $0.8 are expected to be higher by 27.43% compared to the same period last year.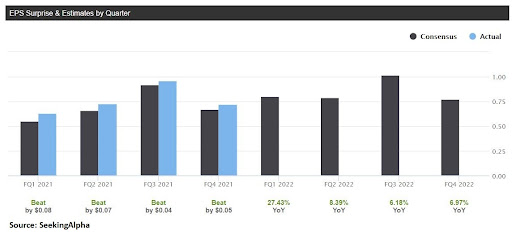 Out of the 24 analysts that cover the Paychex stock price, 8 have issued buy ratings, while 6 have sell ratings. The rest have a neutral opinion, and most recently, J.P. Morgan and Wolfe Research have maintained their sell rating with a price target for the Paychex stock price of $111, respectively $105.
Paychex annual revenue estimate for the fiscal period ending May 2022 is $4.36 billion, expected to reach $4.6 by May 2023. The company operates with a gross profit margin of 68.66%.
Credit: Source link