Nike (NYSE: NKE) stock price is down this month. Investors await more guidance from the Q1 FY2022 earnings and conference call.
Nike stock price is down for the month, ahead of the Q1 FY2022 earnings release. The company plans to release the quarterly earnings today at 1:15 PM PT. The conference call will be broadcast live.
The market expects Nike to report EPS of $1.12, higher by 17.77% compared to the same period last year. The EPS are expected to be more than double in the years ahead, projected at $7.54 in 2026.
Nike stock price has outperformed the S&P 500 in the past five years, delivering 105% compared to the 60% for the market index. In 2021, the stock price is up a little over 9%, and 36% in the last 12 months.
Nike is a company that chooses to pay a dividend. It has an impressive 19-year dividend growth history, and the dividend yield is 0.71%, projected to increase to 1.71% by 2026.
What Do Analysts Say About Nike Stock Price?
Nike operates with a gross profit margin of 44.91%, higher by 25% than the sector median. The price/earnings ratio for 2021 is 49.25, projected to decline to 20.51 by the end of 2026.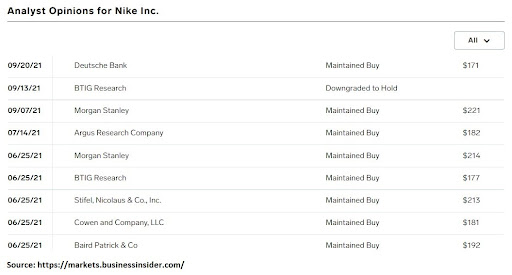 Most analysts are bullish on Nike stock price. Out of 87 analysts that follow the company, only one has a sell rating, and eight have a neutral rating, while the rest have issued buy ratings.
Most recently, Deutsche Bank has maintained its buy rating with a price target of $171, and so did Morgan Stanley, with a price target of $221. On the other hand, Nike stock price was downgraded to hold at BTIG Research.
Credit: Source link