Microsoft (NASDAQ:MSFT) reports its quarterly earnings today, and the market expects $2.08 in EPS for the quarter. The stock price sits near record levels ahead of today's conference call. 
One of the largest tech companies in the world, Microsoft, reports its Q3 2021 earnings today. Investors expect EPS higher than the same quarter last year by +14.23%, and the company has beaten its earnings estimated for the past four consecutive quarters.
The stock price is on a tear higher ahead of the earnings. It is up close to +40% year-to-date, impressive if we consider that Microsoft is a dividend-paying company.
Microsoft pays a quarterly dividend and has a dividend growth history of eleven years. Its dividend yield is 0.80%, and the dividend payout ratio is 28.08%. Dividend-seeking investors often choose to reinvest their dividends in order to increase the compounding rate.
What Do Analysts Say About Microsoft Stock Price?
Everyone appears to be bullish on Microsoft stock price. Out of the 82 analysts covering the stock price, 75 have buy ratings while 7 have issued neutral ratings. No analyst has a sell rating on Microsoft stock price.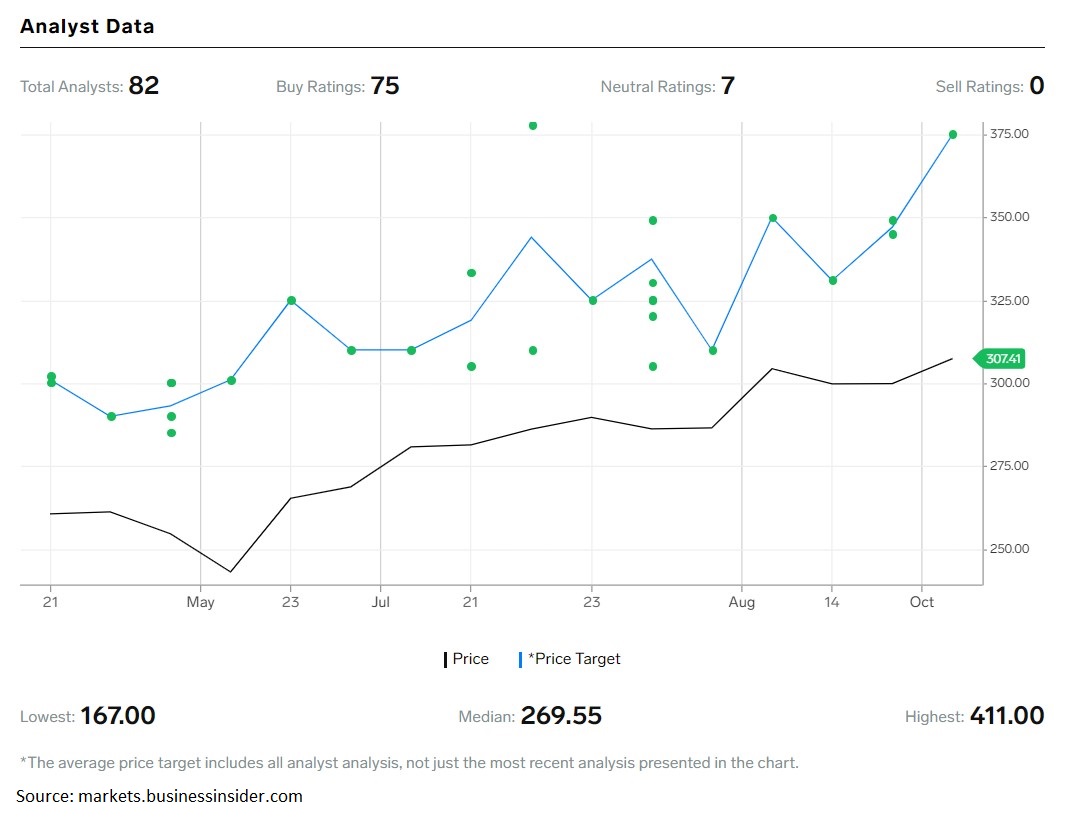 Most recently, Wedbush Morgan Securities has maintained its buy rating with a price target of $375 for the Microsoft stock price. The same did Barclays Capital or Rosenblatt, with price targets of $345, respectively $349.
Investors expect the company to report EPS of $2.08, and the stock price is valued at a Price/Earnings ratio of 38.62. The P/E ratio is forecast to decline slightly next year and to reach 16.27 by the end of 2026.
Credit: Source link