Levi Strauss & Co. (NYSE: LEVI) investors prepare for the quarterly earnings conference call. The market expects EPS of $0.38, and most analysts are bullish on Levi's stock price.
Levi Strauss & Co. is an apparel company known for its jeans brand. The company releases its Q3 2021 earnings tomorrow at 02:00 PM Pacific Time/05:00 PM Eastern Time. Investors expect EPS of $0.38, and the bias is that the company will beat the estimates, as it did in the last four consecutive quarters.
Levi's stock price has been in retreat recently. It formed a double top at the $30 area during the summer months and was only corrected after that. However, the stock price is up over 25% YTD, and most analysts still have buy recommendations.
What Do Analysts Say About Levi's Stock Price?
Out of the 16 analysts covering Levi's stock price, 14 have issued buy ratings, while two have neutral ones. No analyst has issued a sell recommendation.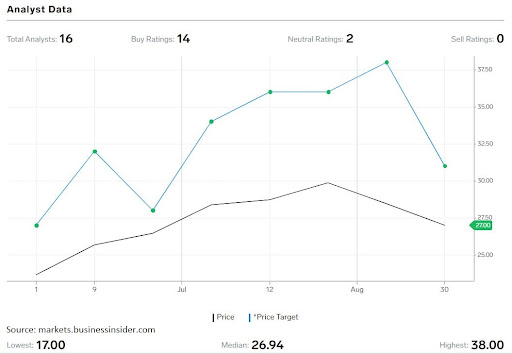 Most recently, Wells Fargo & Co. maintained its buy rating with a price target of $31. The same did Stifel, Nicolaus & Co., with a price target of $38.
Levi Strauss & Co. operates with a gross profit margin of 51.11%, much higher than the 35.9% sector median. The stock price trades at a price/earnings (P/E) ratio of 18.41 in 2021, estimated to fall to 14.65 by 2023.
Investors expect net profits to amount to $549 million in 2021 and rise in the coming two years to $617 million, respectively $692 million. The annual revenue estimate for the fiscal period ending November 2021 is $5.74 billion. 
Credit: Source link