Kroger (KR: NYSE) releases its Q2 2021 earnings today. The market expects EPS of $0.64, and the stock price is up 45% YTD.
Kroger is one of the largest U.S. retailers, and it releases its Q2 2021 earnings today at 10:00 ET. Kroger stock price outperformed this year, up over 45% ahead of the quarterly earnings.
The market expects EPS of $0.64, down by 11.84% compared to the same period last year. Judging by the fact that Kroger has beaten expectations in the last four quarters and that its peers delivered better results than the market expected in the second quarter of the year, the chances are that the company will beat expectations.
What Do Analysts Say About Kroger Stock Price?
Kroger is a dividend-paying company with a dividend payout ratio of 27.12%, and with a dividend growth history of 15 years. The five-year dividend growth rate is 11.51% and the company operates with a gross profit margin for the last twelve months of 23.48%, well below the 35.03% sector median.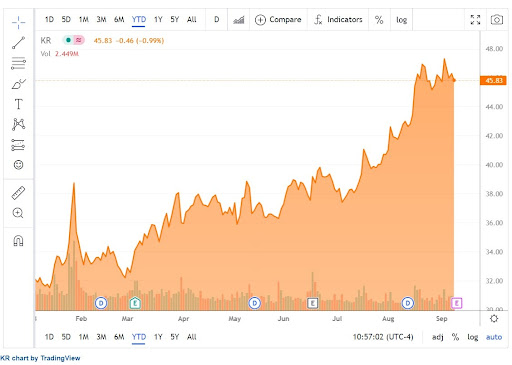 Kroger stock price outperformed in 2021. It reached record highs after the Costco sales report, as did other grocery chains.
Not all analysts are bullish on Kroger stock price. Six of the 36 analysts covering the stock price have issued sell recommendations, while 24 have neutral ratings and the rest have buy ratings.
Kroger trades at a price/sales ratio of 0.7 trailing 12 months, way lower than the 1.51 sector median and the annual revenue estimates for the fiscal period ending January 2022 are $132.78 billion. In the previous quarter, Kroger delivered better than expected EPS and revenue, and also raised the guidance for FY 2021.
Credit: Source link