JPMorgan Chase (NYSE: JPM) investors prepare for the Q3 2021 earnings release. The stock price sits at record-high levels ahead of the earnings call and is up over 33% YTD.
JPMorgan stock price is on a tear higher. It sits at record highs ahead of the Q3 2021 earnings release, scheduled next week, on October 13, at 08:30 a.m. (EDT).
JPMorgan Chase is one of the largest financial services companies in the world. Founded in 1799 and headquartered in New York, the company is valued for its dividend-paying policy and its solid brand – it is considered one of the best banks in America.
The company has eight years of dividend growth history and a payout ratio of 28.26%. The dividend yield is 2.37%, and JPMorgan Chase pays a quarterly dividend.
Revenues are also impressive. The revenue growth rate YoY of 32.30% is much higher than the 17.40% sector median, while the annual revenue estimate for the period ending December 2021 is $122.10 billion.
What Do Investors Expect from the JPMorgan Q3 2021 Earnings?
Investors expect the company to announce EPS of $2.98 for the quarter, lower by 3.52% compared to the same period last year. However, the company has beaten estimates for the past four quarters, so that one might have a bullish bias heading into next week's earnings call.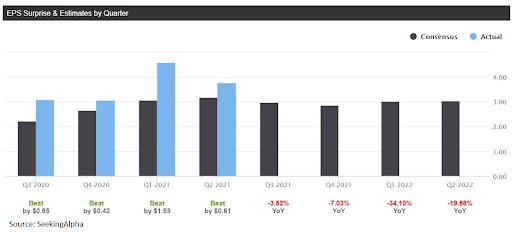 Only two analysts out of 38 have a sell recommendation for JPMorgan stock price. One of them is Morgan Stanley, which maintained its sell recommendation with a price target of $166. Twenty-nine analysts have issued buy recommendations, and the highest price target for JPMorgan stock price is $200. 
Credit: Source link