UK equities look attractive again. After sustained outflows in the aftermath of the Brexit referendum, the UK equities trade at steep discounts against global peers.
The signal was given a few weeks earlier when the US giant Parker-Hannifin made a bid to acquire Meggitt, a UK-based aerospace and defence equipment supplier. Parker-Hannifin (PH: NYSE) is an American corporation active in the aerospace and industrial markets.
What caught the eye was the premium that the US company was willing to pay for the UK one – a hefty 71%. In other words, was this a one-off stock trading at a steep discount, or is the overall UK equity market oversold compared to peers?
As it turned out, many UK companies trade at steep discounts compared to their peers. In some cases, the differences are jaw-dropping. 
Investor Allocations to UK Equities Halved in the Last Six Years
The Brexit referendum triggered sustained outflows from the UK equity market in the five years of negotiations that followed. Even after the negotiations ended, the divergence between the UK equity market and its peers widened.
For example, the UK's FTSE 100 index literally went nowhere since last December. At the same time, the S&P 500 made new higher highs in one of the strongest bullish rallies in recent years.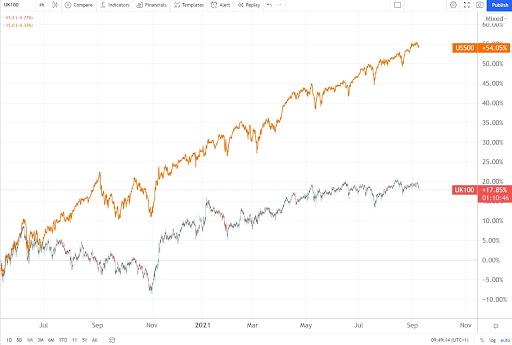 One explanation that justifies the unattractiveness of the UK equity market is the pound's strength. The British pound recovered most of its lost ground due to Brexit, as seen in the EUR/GBP or the GBP/USD exchange rates.
Regardless of the reasons, the UK equity market's cheapness compared to its peers will be tested on the first global market correction. If the UK equity market holds on a correction bigger than 5% in the United States equity market, then the gap reduces considerably. However, the risk is that it won't. 
Credit: Source link