Gold lagged the price action in risk assets in 2021 despite inflation in the United States rising to 7% in December. The technical picture finally looks bullish, as gold tends to perform well in periods with rising inflation. 
One of the most curious divergences during the COVID-19 pandemic has formed between inflation and the price of gold. Historically, gold served as a hedge against inflation.
Despite inflation running hot, gold has underperformed since August 2020. At the same time, Bitcoin, viewed by many as the new "digital gold," reached new record high levels. To many, and especially to young retail traders, it was a confirmation that gold's days are long gone, and a new hedge against inflation was born.
But this is not the first time gold diverges from inflation. In fact, it often does so, and history tells us that gold performs well in periods of rising inflation.
Is it time to buy gold? Can we see a new all-time high in 2022?
Gold bullish setup points to a new all-time high
The technical picture looks bullish here. After making a new all-time high in August 2020, gold fell below $2,000 again. However, during the one year or so of consolidation, gold bulls have reasons to hope for a new attempt at the 2020 record-high levels.
First, gold made a double bottom pattern just below $1,700. This is a bullish pattern and calls for a sharp reversal.
Second, technical traders may note an inverse head and shoulder pattern, albeit an unconventional one, if we judge by the declining neckline. Nevertheless, the pattern's rules stand valid, so bulls closely watch a move above the neckline as a sign of further strength.
Such a break points to more strength, and there is no resistance until record-high levels.
Gold outperforms in periods of high inflation
Before dismissing gold's role as a hedge against inflation, it is worth having a look at historical data. For those that do not use technical analysis to forecast future price levels, historical data may help.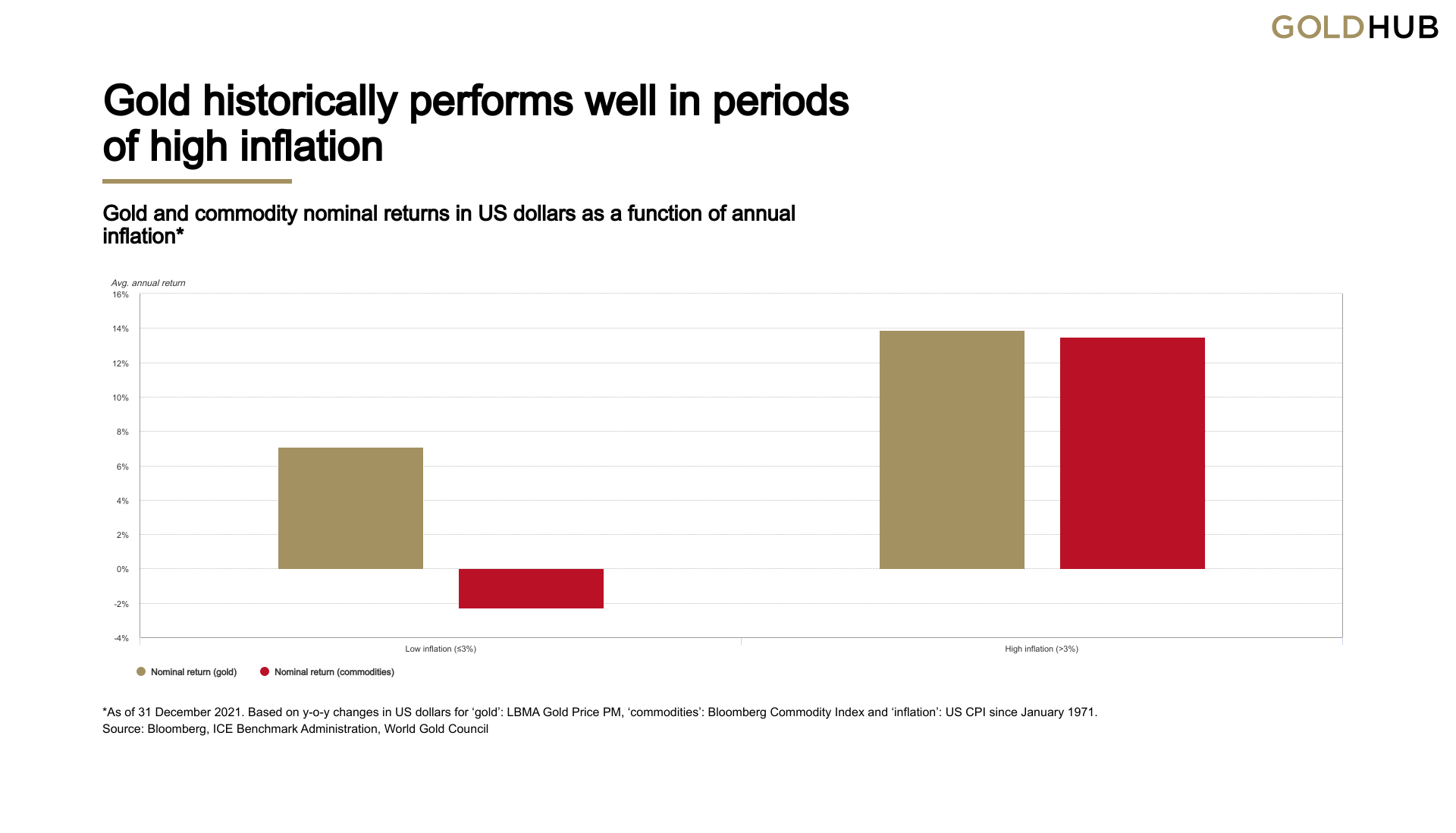 Historically, gold performed well in periods with high inflation. More precisely, in years where inflation was higher than 3%, the price of gold rose 14% on average. Furthermore, gold has outpaced inflation in the long run.
Credit: Source link