The Goldman Sachs Group (NYSE: GS) releases its quarterly earnings on Thursday, October 15, and the stock price is on a tear higher. It recently crossed the $400 and now consolidates just below the round number.
Goldman Sachs stock price is one of the best performers in 2021. It is up 46.57% YTD and over 80% in the past 12 months. Ahead of the quarterly earnings, scheduled in two days from now, the stock price hovers near record levels after recently crossing the $400 mark.
Goldman Sachs is one of the largest players in the financial services industry. It is an investment banking and brokerage house with a worldwide reputation, and it is a dividend-paying company. It has ten years of dividend growth history and a dividend yield of 2.07%.
What Do Investors Expect from the Quarterly Earnings?
For the quarterly earnings, investors expect EPS of $9.94, but the bias is that Goldman will easily beat expectations, just as it did in the past previous quarters. The company operates with a gross profit margin of 89.3%, much higher than the 63.72% sector median.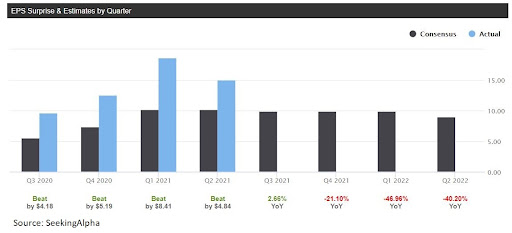 Goldman stock price trades at a P/E ratio of 7.15 in 2021, expected to rise to 10.06 in 2022 before declining back to 9.36 in 2023. Analysts are optimistic about future market performance, as 40 of them have buy ratings, and 14 have neutral ratings. Only four analysts are bearish and issued sell ratings.
Most recently, Piper Sandler and JMP Securities have maintained their buy ratings for the Goldman Sachs stock price, with price targets of $435, respectively $450.
Credit: Source link