Gold underperformance in 2021 is set to continue for the rest of the trading year. Prologis and Morgan Stanley report quarterly earnings this week.
Gold price underperformed in 2021, pressured by a stronger dollar and the potential uptick in real yields as the Fed prepares to remove the monetary stimulus. Currently, the price of gold has reached support in the $1,700 area and resistance at the $1,800 level, unable to break either of the two.
European and American stock market indices moved in tight ranges recently. In Europe, the German Dax index is slightly up today, trading close to 15,150 points, while the FTSE 100 index in the United Kingdom trades above 7,100 points, down by about 0.2% on the day. 
The U.S. futures point to a flat opening today, and thus tight ranges are expected to remain in place at least until the September CPI data and the FOMC Minutes are out later in the trading day.
Economic Events to Consider Today
Today, it is all about the U.S. inflation data for September and the FOMC Meeting Minutes. The market participants expect the U.S. inflation to rise by 0.3% in September, and the Core CPI, which does not include energy and food prices, to rise by 0.2%, but the risks are tilted to the upside.
A few hours later, the FOMC Meeting Minutes will give traders more clues about the Fed's intentions regarding the tapering of its asset purchases. Given the tight ranges in the stock market recently, it became clear that the tapering of the asset purchases is the main event for the rest of the year, and any news on this front may move financial markets.
Today's Markets to Watch
Today's markets to watch are gold, Morgan Stanley, and Prologis.
Gold Price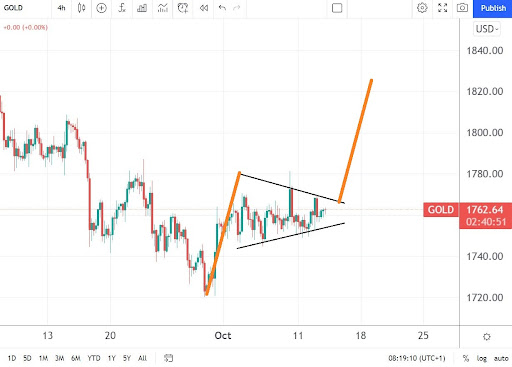 Gold price tries to carve out a bottom, and we can spot a possible pennant formation in the makings. A close above $1,780 may trigger more upside because traders will try for the pattern's measured move, which hints at $1,820 and beyond. Also, such a move breaks the lower lows and lower highs series, attracting even more buyers.
Morgan Stanley
Morgan Stanley reports its Q3 FY2021 earnings tomorrow, and the stock price struggles at the $100 level lately. The price action here was bullish for the entire year, making new higher highs and higher lows and holding inside a rising channel. A drop below $90 will invalidate the bullish conditions, while a daily close above $110 would likely trigger more strength.
Prologis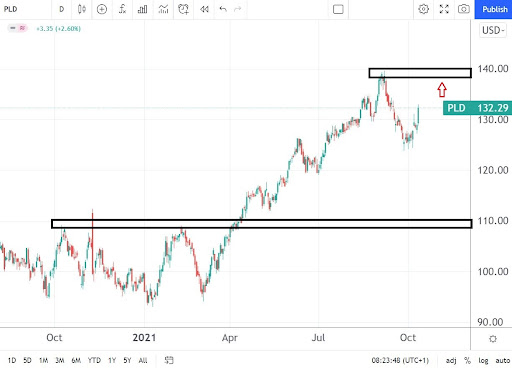 Prologis is another company that reports its quarterly earnings this week, and the stock price was rejected at $140 recently. A drop below $120 would invalidate the bullish conditions, while a move above $140 would likely trigger more strength.
Winners and Losers
The dollar index reached a new high this week, while the Japanese yen keeps declining. Oil remains strong, trading above $80.
Credit: Source link