FTSE 100 drops back to 7,000 points after failing at 7,200 for the third time in a row. Qualcomm and Intel are in focus today.
The FTSE 100 index failed at 7,200 again and quickly retraced to a major support area at 7,000. The index is in danger of forming a triple top pattern, and a daily close below 7,000 would support the bearish outlook.
Today's job data released in the United Kingdom did not help. The Claimant Count Change missed expectations, out at -58,600 on -71,100 expected, while the unemployment rate came out unchanged.
Equity markets around the globe bounced yesterday from their recent lows. Just like the FTSE 100 index jumped from support seen at the 7,000 area. The S&P 500, the Dow Jones, and the major European indices ended the first trading day of the month in green territory.
Commodities had mixed performance – oil is seen strong, trading comfortably above the $70 level, while gold still struggles at the $1,800 area, literally unchanged on the week so far.
The same lack of price action is present in the currency market. As a result, the U.S. dollar gave back its recent gains and trades flat on the week.
Economic Events to Consider Today
Inflation data in the United States is the highlight of the trading day. The August CPI (Consumer Price Index) is expected at +0.4%, while the Core CPI, which does not take into account the prices of food and energy, is expected higher by 0.3%.
Today's Markets to Watch
Today's markets to watch are FTSE 100, Qualcomm, and Intel.
FTSE 100 Outlook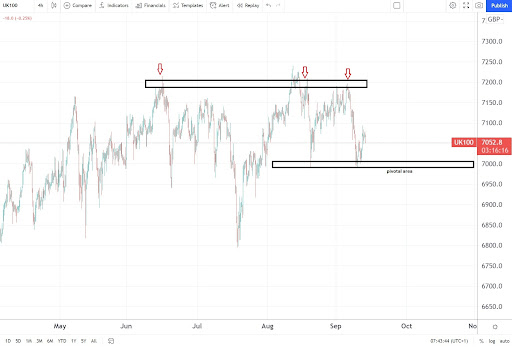 The FTSE 100 outlook will turn bearish if the index drops below 7,000 again. The inability to hold above 7,200 brings into focus a possible triple top formation, suggesting a downward move on a break below 7,000. On the other hand, if support keeps holding, a daily close above 7,200 would attract more buyers.
Qualcomm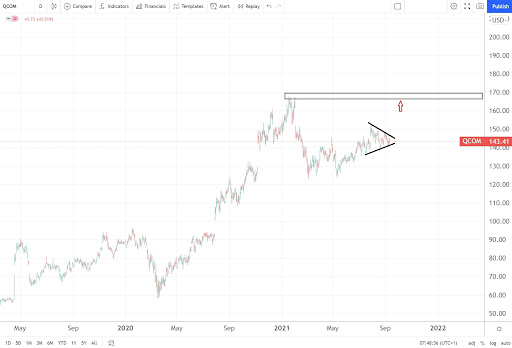 Qualcomm has consolidated recently in a triangular formation that may break out either way. A bullish breakout hints at further strength and a new attempt at the $170 highs is in the cards. The company is in focus recently as it entered a bid to acquire Veoneer, a worldwide leader in automotive technology, offering binding $37 per share.
Intel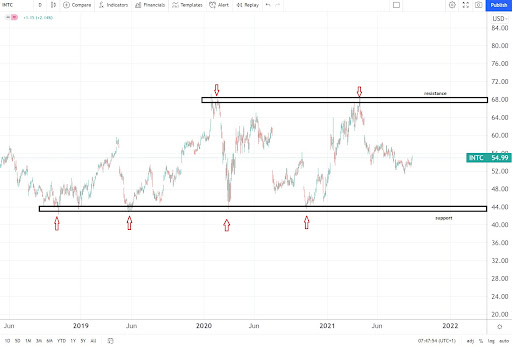 Intel stock price is in a long-term consolidation, as reflected by the chart above. The market hovers between support and resistance, seen at $44, respectively $68. Most recently, Intel announced that it could cut server CPU prices in an attempt to recapture market share lost to rivals such as AMD. While between support and resistance, Intel is just consolidating. Any move outside the range should trigger more of the same.
Winners and Losers
The equity markets recovered some of the last week's losses, and the U.S. dollar declined in consequence. Oil remains bullish while above $70.
Credit: Source link