The price of the Litecoin (LTC) cryptocurrency spiked yesterday as a result of widely reported fake news. Why did it happen, and what does it mean for crypto investors?
Did you see what happened on the Litecoin price chart yesterday? The price shot up on increased volume on the widely reported news that major US retailer Walmart was about to start accepting the coin as a payment method. Then the original tweet on Litcoin's own Twitter account was deleted and the Litecoin price inevitably dropped back to where it began.
Litecoin 1-day price chart (source: Yahoo! Finance)
The problem is that this news had fooled many of the major media outlets including Reuters and CNBC before Walmart reported it as fake. I wonder how many amateur crypto investors bought in when the price soared and then lost their shirts when the price sank to settle back where it started?
What Is Litecoin?
Litecoin (LTC) was one of the first altcoin spinoffs of Bitcoin (BTC) in 2011. LIke Bitcoin, it is a decentralised digital currency — or cryptocurrency — based on blockchain technology. 
Should You Buy Litecoin Right Now?
With hindsight, you should not have bought Litecoin when the price shot up unless you'd got in very early during the price rise. Anyone who bought at the temporary price peak would now be sitting on a significant loss, which shows that you should never buy an asset simply because its price is going up unless you first assess the news behind the price boost. And even then, the news can't be trusted 100%, as we have seen.
With the Litecoin price having now settled back to where it was, the case for buying is exactly the same as it was last week. So, if you were going to buy this coin then, you should buy it now.
Litecoin Price Target
The following chart shows that the price of Litecoin actually went up by a similar amount one week earlier, so the 230 price level is certainly possible. Only four months ago, the price was more than double the current value, so 350+ could also be a target to aim for.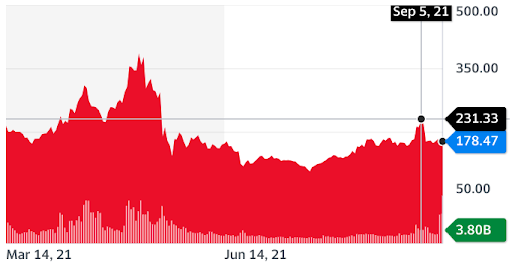 Litecoin 6-month price chart (source: Yahoo! Finance)
Where Can You Buy Litecoin Today?
Many online brokers let you bet on the rise or fall of the price of cryptocurrencies such as Litecoin without actually buying or selling the coins. Two of the best brokers are:
Pepperstone
Pepperstone was founded in 2010 in Melbourne, Australia by a team of experienced traders with a shared commitment to improve the world of online trading. Frustrated by delayed executions, expensive prices and poor customer support, they set out to provide traders around the world with superior technology, low-cost spreads and a genuine commitment to helping them master the trade. Their mission is to create a world of tech-enabled trading where ambitious traders can embrace the challenge and opportunity of global markets.
Register with Pepperstone instantly
eToro
eToro is one of the world's leading multi-asset trading platforms offering some of the lowest commission and fee rates in the industry. It's social copy trading features make it a great choice for those getting started.
Register with eToro instantly
Credit: Source link