Dow Jones ended the first trading day of the week with a bearish tone. U.S. Bancorp and Walgreens Boots Alliance release their quarterly earnings today.
Dow Jones entered its sixth month of consolidation in October, so a decline like the one seen yesterday is meaningless unless we see more follow-through. As such, the outlook remains bullish because the consolidation is just shy of record levels. Futures also point to a weak opening, and the other stock market indices follow.
In Europe, all major indices opened the trading day in the red. The CAC 40 index in France is down about 1%, while the German Dax index is down by 0.80%. Unless the U.S. futures reverse some of their losses, the weakness in the European equities is likely to persist.
On the commodities front, oil remains strong while above $80, and there are no signs that the bullish bias there will end any time soon. Gold trades in a tight range, unable to move from the $1,750 area.
Economic Events to Consider Today
The main economic release in Europe comes from Germany. The ZEW Economic Sentiment is expected at 26.5, down from the 31.1 previously. This survey shows the strength of Europe's largest economy and may move the markets, especially if the actual data comes out much weaker than the forecast.
In the United States, two Fed members hold speeches today – Clarida and Bostic. Because tomorrow the market expects the FOMC Minutes, the two may give guidance as to what comes next from the Fed in the last trading months of the year.
Today's Markets to Watch
Today's markets to watch are Dow Jones, U.S. Bancorp, and Walgreens Boots Alliance.
Dow Jones Outlook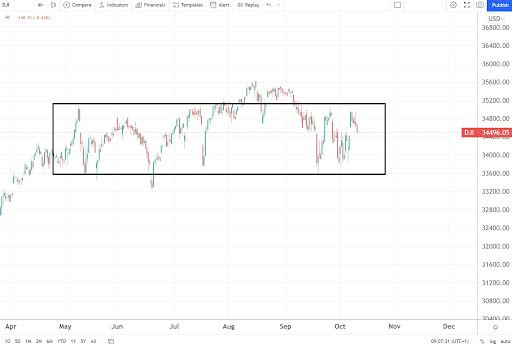 The consolidation near all-time highs entered its sixth month in October, so traders must interpret each decline and advance with a grain of salt. Unless the Dow Jones index closes below 33,500 or above 35,600, any move lower or higher should be interpreted in the context of this long-term consolidation.
U.S. Bancorp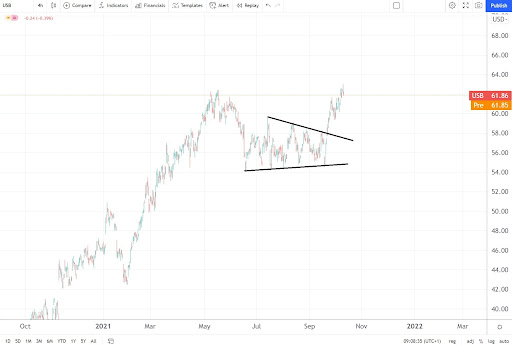 U.S. Bancorp investors prepare for the quarterly earnings due to be released this week, and the stock price hovers close to its all-time highs. It recently broke out of a bullish contracting triangle, and the bias remains constructive ahead of the conference call. A daily close below $56 will end the bullish case.
Walgreens Boots Alliance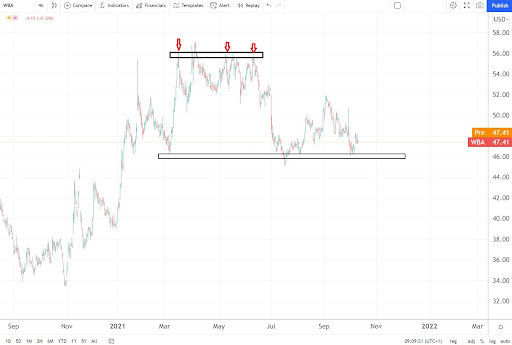 Another company scheduled to release its quarterly earnings this week is Walgreen Boots Alliance. The price action here found support at $46 after forming a triple top pattern at $56. As such, the bias remains bearish unless we see a daily close above $52.
Winners and Losers
WTI crude oil price remains strong, trading above $80/barrel; U.S. equities and the Japanese yen started the week with a weak tone. 
Credit: Source link