Delta Air Lines (NYSE: DAL) is expected to post its first quarterly profit since the start of the COVID-19 pandemic. Investors expect EPS of $0.17 to be announced at this week's conference call.
Delta Air Lines investors prepare for the Q3 2021 conference call scheduled for release on October 13 at 10:00 AM ET. The market expects EPS of $0.17 on the quarter – the first positive quarter since the COVID19 pandemic started.
The stock price declined severely during the pandemic as travelling literally came to a halt. On top of that, the news that Warren Buffett, the famous investor, sold all its participation in the company pushed the stock price lower even more.
However, Delta Air Lines stock price recovered smoothly. It is now up by 32.74% in the last 12 months, in a bullish trend since the 2020 dive. Ahead of the quarterly earnings, investors are optimistic that the company may deliver better than expected results, just like it did in the previous quarter, when it delivered a revenue surprise, beating expectations by $858 million.
What Do Analysts Say About Delta Air Lines Stock Price?
Just like investors, analysts are optimistic about Delta stock price. Out of the 30 analysts covering Delta Air Lines stock price, 23 have issued buy ratings, while 7 have neutral ratings. More interestingly, no analyst has a sell rating for the Delta Air Lines stock.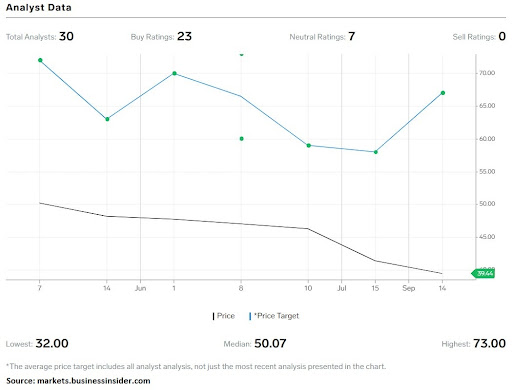 Most recently, Delta Air Lines was upgraded to buy at Raymond James Financial with a price target for Delta Air Lines stock price of $58. On the flip side, Wolfe Research has downgraded the stock price to hold. Finally, Morgan Stanley has maintained its buy rating, with a price target of $67.
Credit: Source link