Crude oil price rally continues unabated, trading comfortably above $80. Alcoa and Citigroup investors prepare for the quarterly earnings release.
Oil price trended higher in 2021, and it recently made a new high, clearing resistance at $80. The relentless move higher fuels further upside in inflation and forces central banks to rethink their monetary policy.
Speaking of monetary policy, the FOMC Minutes released yesterday failed to impress market participants in the sense that they brought nothing new. The Fed is ready to taper its asset purchases, and now it is just a waiting game until it begins.
The stock market indices in the United States trade without any direction – any move higher is quickly sold, any move lower is quickly bought. As such, the main indices are consolidating close to their highs, looking for a reason to break out of a six-month-long range.
Futures point to a green opening, with all three main indices – Dow Jones, S&P 500, Nasdaq 100 – seen up by 0.4%. In Europe, the main markets are also up, taking their leads from what is happening on the other side of the Atlantic ocean.
On the commodities front, gold rallied yesterday after the U.S. inflation data and now tries to break above $1,800 resistance. Natural gas remains well bid.
Economic Events to Consider Today
After yesterday's U.S. inflation data and FOMC Minutes, the market's attention turns to the PPI or producer price index, expected at 0.6% in September after 0.7% a month earlier. This is, however,  second-tier data, and even if it deviates from the forecast by a lot, it takes time until the consumer price index will reflect the change.
Today's Markets to Watch
Today's markets to watch are crude oil, Alcoa, and Citigroup.
Crude Oil Price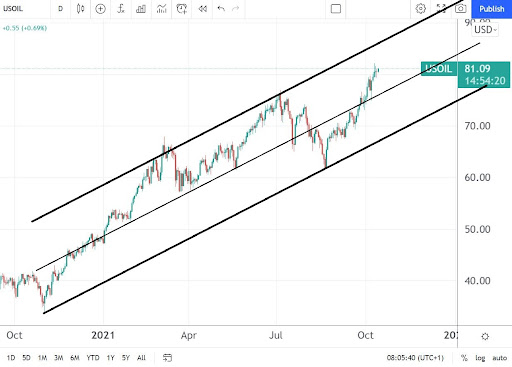 Crude oil prices made a new higher high for the year, and the bullish trend continues. It now sits comfortably above $80 ahead of today's crude oil inventories release, and the bias remains bullish unless it drops below the previous higher low in the $60 area. Until then, investors will likely buy any dip into dynamic support seen at $75 and $70.
Alcoa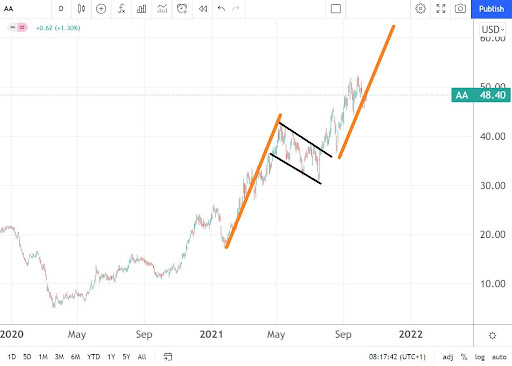 Another company that releases its Q3 2021 today is Alcoa. Here, the price action is bullish after the stock price broke out of a bullish flag pattern. Its measured move suggests more strength toward the $60 area, and we should not be surprised to see another leg higher should the company's earnings come out better than the market's estimates.
Citigroup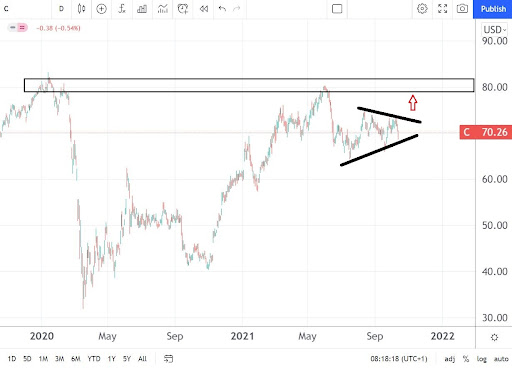 Citigroup investors await the quarterly earnings scheduled for release today. The price action shows a triangular pattern forming right below the pre-COVID-19 highs – a triangle that may end up being both bullish or bearish. As such, it is best to let the market speak first before trading. A close above the upper trendline suggests a new high is possible, and a move above $80 is imminent. On the flip side, a drop below $65 puts suggests more downside is likely.
Winners and Losers
Gold rallied from its weekly lows; the U.S. dollar is weak across the board. 
Credit: Source link