Costco (NASDAQ: COST) investors prepare for the quarterly earnings, and the stock price remains close to its all-time highs. The company is expected to release the Q4 FY2021 earnings on September 23, during post-market hours.
Costco stock price has been on a tear higher lately. The COVID-19 correction in the stock market is barely seen on the Costco chart, as the stock price exploded higher on strong earnings and financial position.
Tomorrow, the company reports its earnings for the last quarter of its FY2021, and investors are optimistic that the company will deliver better results if only judging by the stock's performance – up by 20% YTD and over 33% in the past 12 months.
Costco stock price performance is even more impressive if we consider the fact that this is a dividend-paying company, with a five-year dividend growth rate of +11.88% and a payout ratio of 29.48%. The dividend yield, currently at 0.64%, is expected to rise gradually and reach 0.74% by 2025.
What Are the Market Expectations for Q4 FY2021?
Investors have high expectations from the Q4 FY2021 results. The market expects EPS of $3.54 on the quarter, higher by 16.43% compared to the same period last year.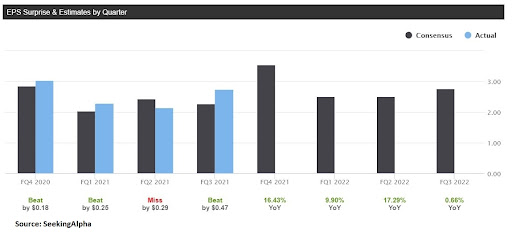 The annual revenue estimates for 2021 are $194.63 billion and are projected to reach $259.25 billion by 2025. Costco operates with a gross profit margin of 13.07% in the last 12 months, much lower than the 34.38% sector median. Costco trades at a P/E ratio of 42.34, expected to decline to 27.8 by 2025.
Credit: Source link