Cintas Corporation (NASDAQ: CTAS) announces its quarterly earnings tomorrow. The market expects EPS of $2.76 on the quarter.
Cintas is one of the largest companies in the diversified support services industry. It produces corporate identity uniforms and runs operations in the United States, Canada, and Latin America.
On September 29, at 10:00 AM ET, the company will release its earnings for the Q1 FY2021. Investors expect EPS to be in line with the EPS of the same period last year, $2.76/share.
Cintas stock price is up by 11.26% YTD and 20.85% in the last 12 months. This is a dividend-paying company with a dividend yield of 0.96% and a dividend payout ratio of 35.68%. Cintas stock price trades at a P/E ratio of 38.61, higher by about 50% than the 25.74 sector median.
What Do Analysts Say About Cintas Stock Price?
Out of the 26 analysts that follow Cintas stock price, 12 are bullish and have issued buy ratings, while five are bearish and issued sell ratings. Nine analysts have neutral ratings.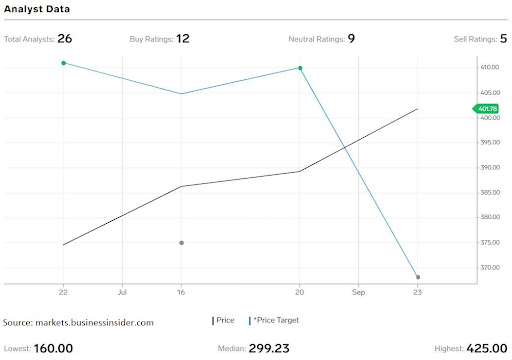 Most recently, Morgan Stanley maintained its hold recommendation, with a price target for the Cintas stock price of $368. The same did Credit Suisse, which also maintained the hold recommendation but with a slightly higher price target of $375. Finally, Cintas stock price was upgraded to buy at Baird Patrick & Co, with a price target of $425.
Cintas operates with a gross profit margin of 46.58%, much higher than the 29.12% sector median. The annual revenue estimate for the fiscal period ending May 2022 is $7.64 billion.
Credit: Source link