MEP Dr. Stefan Berger met with the Cardano Foundation CEO showing his commitment to supporting blockchain development in the EU.
He praised the Cardano blockchain calling it "a rocket in the crypto space".
---
Member of European Parliament Stefan Berger has recently showered praises for the Cardano blockchain network after his recent encounter with Frederik Gregaard, CEO of the Cardano Foundation. The Cardano Foundation has been working to make inroads into the EU's blockchain landscape.
With the EU working on fresh policies for blockchain and crypto innovation, Cardano is engaging with policymakers in this regard.
Great to meet you today @F_Gregaard . Good discussions about #MiCA. #Cardano is a rocket in the crypto space, keep it up! 🚀@Cardano @IOHK_Charles https://t.co/X6EpZhhZZm

— Stefan Berger (@DrStefanBerger) October 25, 2022
In his tweet on Tuesday, October 25, the Cardano Foundation CEO said:
It was a real pleasure to visit @Europarl_EN today to exchange views with @DrStefanBerger MEP – he is a passionate and engaged policymaker who asked smart questions about #Cardano and is committed to supporting the development of blockchain applications across the EU. 
Stefan Berger later reciprocated the greetings adding that "Cardano is a rocket in the crypto space, keep it up". Furthermore, Berge also stated that the two had discussions on Markets in Crypto Assets Regulation (MiCA) specific to the crypto regulatory measures in the EU.
Over the last three years, Dr. Stefan Berger has served as a German economist and politician and belongs to the Christian Democratic Union (CDU). Before being a member of the European Parliament, Stefan Berger also served in the State Parliament of North Rhine-Westphalia.
Earlier this year, the Committee on Economic and Monetary Affairs of the European Parliament adopted a draft for a comprehensive crypto regulation package – Markets in Crypto Assets, or MiCA. This framework seeks to address several facets of the crypto industry. This includes the regulation of all crypto platforms as well as the status of all major digital assets and stablecoins.
Cardano (ADA) price jumps over 10%
On Tuesday, October 25, Cardano's native cryptocurrency ADA also participated in the crypto market rally rising more than 10 percent. As of press time, ADA is up 9.57 percent in the last 24 hours and is currently trading at $0.40 with a market cap of $13.8 billion.
Cardano's native crypto ADA has been showing some good moves over the last few months. The ADA price also rallied close to $0.50, however, it eventually gave up gains as the broader market didn't support the rally. Over the last weekend, October 22, on-chain data provider Santiment reported that Cardano (ADA) was looking undervalued. It noted:
Cardano now sits at its lowest relative position compared to its realized value since Jan, 2019. This is a sign of undervaluation based on average trader losses. $ADA's price doubled the following 3 months the last time its MVRV Z-Score hit this level.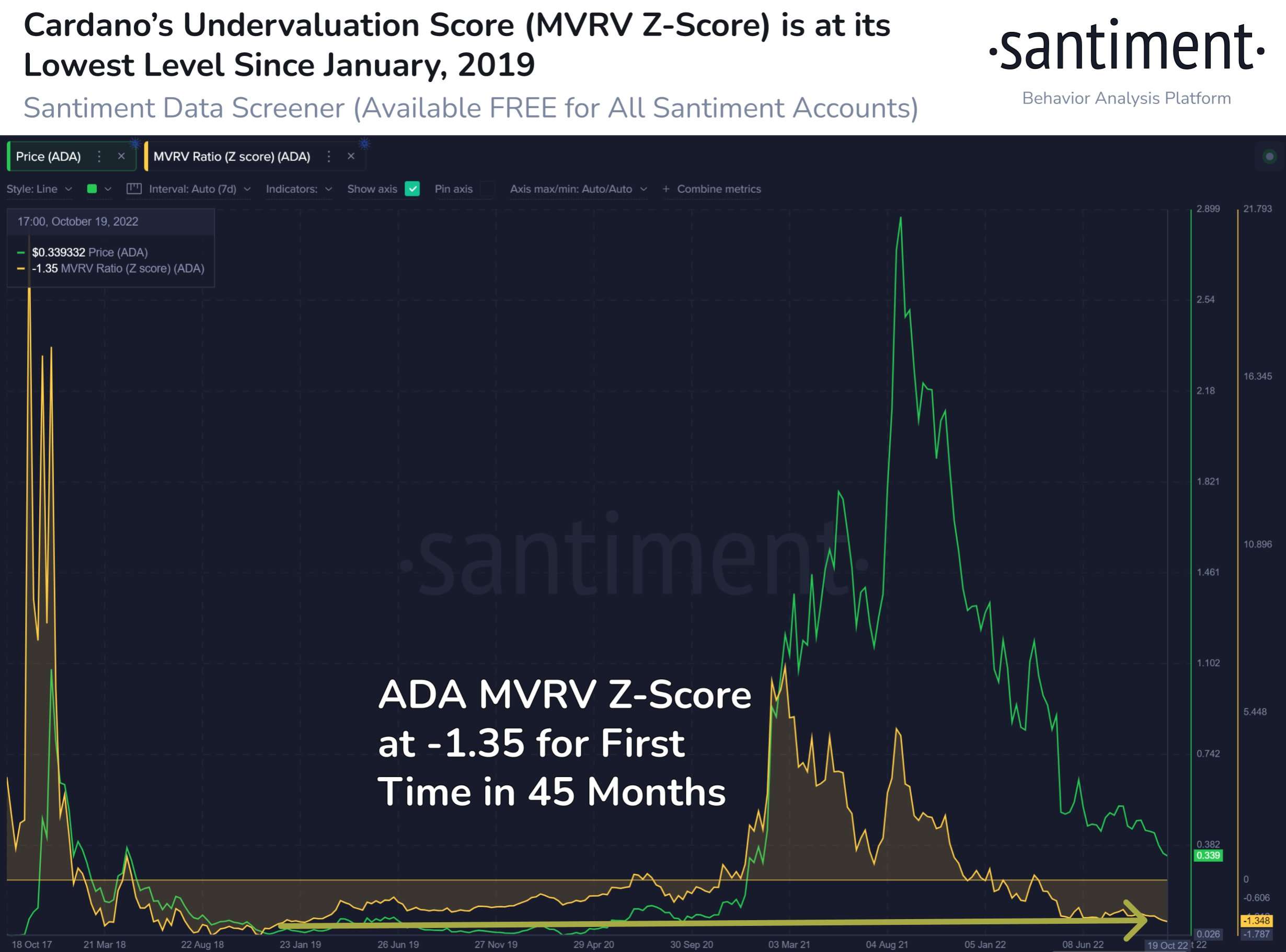 It will be interesting to see whether Cardano can continue this price rally moving closer to $0.50 once again.

Credit: Source link