The U.S. stock market trades close to its record highs. While the returns, as measured by the S&P 500 index, are jaw-dropping, the bull market may have only started.
The U.S. has the largest equity market in the world. Because of the American culture towards investing, all companies that want to be publicly listed try to access American capital.
A bullish market keeps rising without meaningful corrections. The market must drop more than 20% from its recent highs to turn from bullish to bearish. That's when the bearish market starts.
Because the S&P 500 delivered an outstanding performance during the pandemic, some traders fear that a correction is due. That may be correct; but, statistically speaking, the odds favour the continuation of the bull market's rally.
Historical data points out that the average bull market in the S&P 500 index since World War II has lasted about five years. The current one, however, is not even eighteen months old. In other words, if history is telling us something, it is that the bullish bias may persist for some time.
Record Annualised Inflow to Global Stocks in 2021
Investors worldwide were left looking for higher returns as central banks lowered rates to zero in unison. As a result, the global stock market was flooded with record inflows in 2021.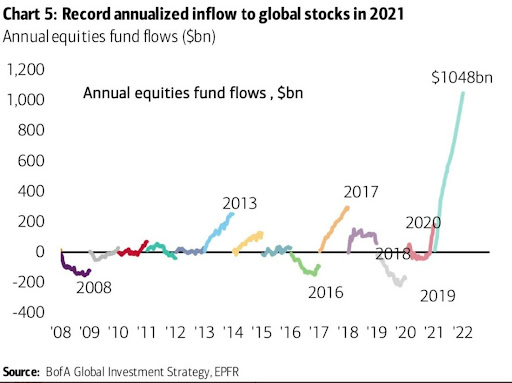 Just to put things into perspective: from 2001 to 2020, the inflows in the global stock markets totalled $0.8 trillion; in 2021 alone, those inflows totalled $1.048 trillion. As argued at the start of this article,  the U.S. equity market is the largest in the world. Hence, the biggest chunk of these inflows went just there. It is one way to justify that U.S. stocks are rising almost three times as fast as the rest of the world.
Another way is to attribute the strong risk appetite to the easy money delivered during the pandemic. As a result, households received paychecks and economies received monetary and fiscal support.
Judging by the youth of the current bull market run as seen in the S&P 500 index, the market participants are not scared of a drop of 20% or more from record-high levels. Instead, they will likely buy each dip.
Credit: Source link