BlackBerry (NYSE: BB) releases its fiscal year 2022 second-quarter results this week. The company's stock price found strong support at $10 and is up over 50% this year.
BlackBerry is a Canadian company providing security software and services worldwide. The stock price was in focus this year, as it became one of the meme stocks in the first half of the year, with investors trying to squeeze short-sellers.
Today, BlackBerry stock price finds support at $10, after trading as high as $25 in February. However, even at current levels, BlackBerry stock price is up by 51.28% year-to-date and 112.05% in the last 12 months.
The company releases its Q2 FY2022 earnings today, and the market expects EPS of -$0.07. BlackBerry also lost money in the previous quarter. Investors expect the company to show a profit only for the Q4 FY2022.
In other words, BlackBerry is losing money, and most of the price action seen in the stock price is speculative or driven by long-term investors believing in the management's ability to turn the company around.
What Do Analysts Say About BlackBerry Stock Price?
Most of the analysts have issued neutral ratings for BlackBerry's stock price. Most recently, Capital Depesche upgraded the stock price to hold.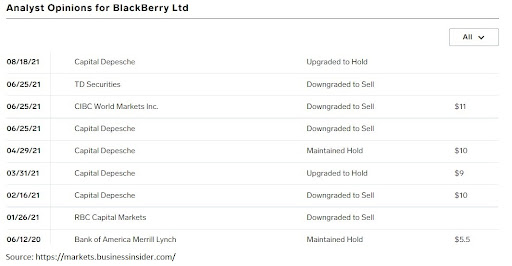 BlackBerry operates with a gross profit margin of 71.31%, much bigger than the sector median of 49.04%. The price/sales ratio trailing 12 months is 6.58, bigger than 4.35 the sector median. The company does not pay a dividend, and the stock price experienced unusual fluctuations during the trading year due to investors speculating heavily against the short-selling interest.
BlackBerry's annual revenue estimates for the fiscal period ending February 2022 is $781.62 million and for the fiscal period ending February 2023 is $954.19 million.
Credit: Source link