Bank of America Corporation (NYSE: BAC) investors await the quarterly earnings scheduled to be released this week. The stock price is on a tear higher, up tenfold from the COVID-19 pandemic lows.
Bank of America prepares to release its quarterly earnings on October 14 at 09:00 AM ET. Investors expect EPS of $0.7 on the quarter, up by 37.06% compared to the same period last year.
The stock price action has been nothing but spectacular in the months following the COVID-19 stock market rout. As low as $4/share, the Bank of America stock price climbed to $44 in an almost vertical move. Yet, the pre-COVID-19 highs were not reached, but the bias remains bullish if we interpret the upside move in the context of higher EPS reported in the previous quarters.
Bank of America delivered better than expected earnings in each of the last four quarters. Therefore, the bias is that it will do so again this quarter. This is a dividend-paying company with a dividend growth history of eight years and a dividend yield of 1.92%.
What Do Analysts Say About Bank of America Stock Price?
Most analysts are bullish on the Bank of America stock price despite the spectacular performance in recent months. Out of the 30 analysts that cover the stock price, 19 have issued buy ratings, while 8 have neutral ones. Only three analysts have issued sell ratings.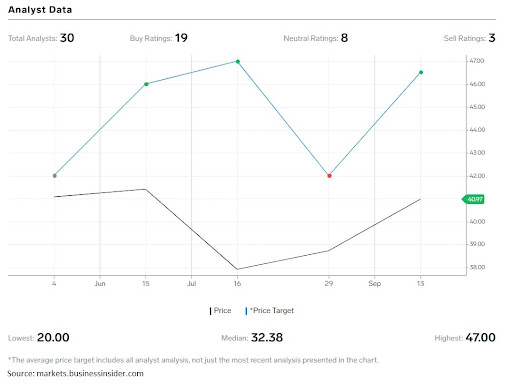 A few days ago, Bank of America stock price was downgraded to hold at Wolfe Research. On the other hand, Odeon upgraded it to buy, with a price target of $46.5.
The annual revenue estimates for the fiscal period ending December 2021 are $87.56 billion, while those for the fiscal period ending December 2022 are $91.33 billion. 
Credit: Source link