Aurora Cannabis (NASDAQ: ACB) investors prepare for the full fiscal year 2021 earnings and investor conference call. The stock price is down by 28.40% YTD.
This year, Aurora Cannabis stock price declined by 28.40%, and investors await the Q4 FY2021 earnings and conference call. The market expects EPS of -$0.20 for the last quarter of the fiscal year 2021, and the bias is bearish as the company missed expectations in the previous four consecutive quarters.
Aurora is a Canadian company headquartered in Edmonton. It produces and distributes medical cannabis, and its stock price started the trading year in a bullish trend, reaching as high as $18.92 per share. Yet, poor earnings weighed on the stock price, dragging it down below $6.
What Do Analysts Expect from Aurora Cannabis Stock Price?
Most analysts expect the company to report a decrease in sales of 21.81% over the previous year. The perspective is not bright for Aurora Cannabis stock price, as it currently trades at a price/earnings ratio of -2.11 for the year. Moreover, analysts expect that the price/earnings ratio will continue to decline, expected to reach -10.62 in 2022 and -10.53 in 2024.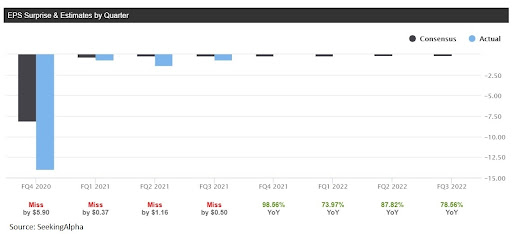 Despite negative earnings expectations for Q4 FY2021, they'll be more than double the previous year's earnings. The annual revenue estimate for the fiscal period ending June 2022 is 237.78 million, and the company's gross profit margin is -56.80%, way lower than the +55.29% sector median.
All in all, Aurora Cannabis stock price is in a bearish trend, and fundamentals suggest it will continue. Moreover, the company keeps losing money and is expected to do the same in the next four quarters.
Credit: Source link