Apple (NASDAQ: AAPL) reports its quarterly earnings and the full FY 2021 results today. Investors expect EPS of $1.23 on the quarter. 
Apple stock price has been affected by the 2021 tech sector rout. The troubles in the Chinese tech sector affected the Nasdaq 100 index too, and Apple was one of the companies that suffered.
However, it doesn't trade that far from the all-time highs, and the stock price has recovered significantly in October. The company reports today the full FY 2021 results at 02:00 PM PT/05 PM ET and the consensus is that the company will report EPS of $1.23 for the last quarter of the fiscal year.
Apple is a dividend-paying company with a nine-year-long dividend growth history. It pays a quarterly dividend, and the last one paid was $0.22. The payout ratio is 15.77%, and the dividend yield is 0.59%.
The company trades at a Price/Earnings (P/E) ratio of 26.24 currently, forecast to decline in the years ahead and to reach 22.03 by 2025.
What Do Analysts Say About Apple Stock Price?
Apple has one of the strongest brands in the world, and it has a unique marketing model. The company is known for its consistent investments in research and development, and most analysts following the Apple stock price have issued buy ratings.
Out of the 99 analysts covering the stock, 81 have issued buy ratings, and 15 have issued neutral ratings. Only 3 analysts have sell ratings.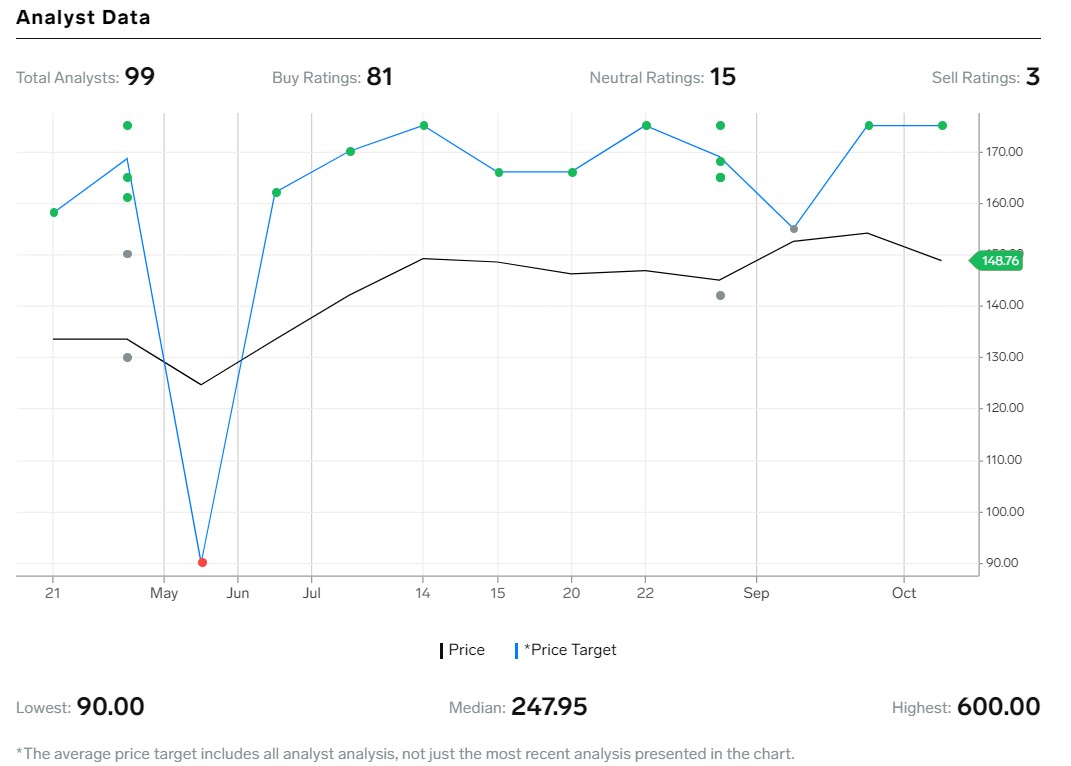 Most recently, D.A. Davidson & Co. has maintained its buy rating with a price target of $175 for the Apple stock price. The same did Piper Sandler, with a similar price target. Apple operates with a gross profit margin of 41.01%, slightly below the 49.09% sector median.
Credit: Source link