Amazon (NASDAQ:AMZN) stock price is almost flat on the year and in the last twelve months. Investors await Q3 2021 earnings scheduled for October 28, 2021.  
Amazon investors are preparing for the quarterly earnings call scheduled for tomorrow. The market expects EPS of $8.96 on the quarter and the annual revenue estimate for the fiscal year ending December 2021 is forecast at $475.63 billion.
The stock price has consolidated in a tight range for one year now, despite the U.S. equity market indices making several all-time highs in the meantime. To exemplify, Amazon stock price has been up +3.62% in the last twelve months.
Amazon does not pay a dividend, and investors like the stock because of its growth potential. The company has beaten the earnings estimates in the last four quarters, and the bias, therefore, is that it will do so again.
What Do Analysts Say About Amazon Stock Price?
Literally every analyst covering the Amazon stock price is bullish. Out of the 100 analysts that track the company's financial performance, they all have buy ratings. No analyst has a neutral or sell rating.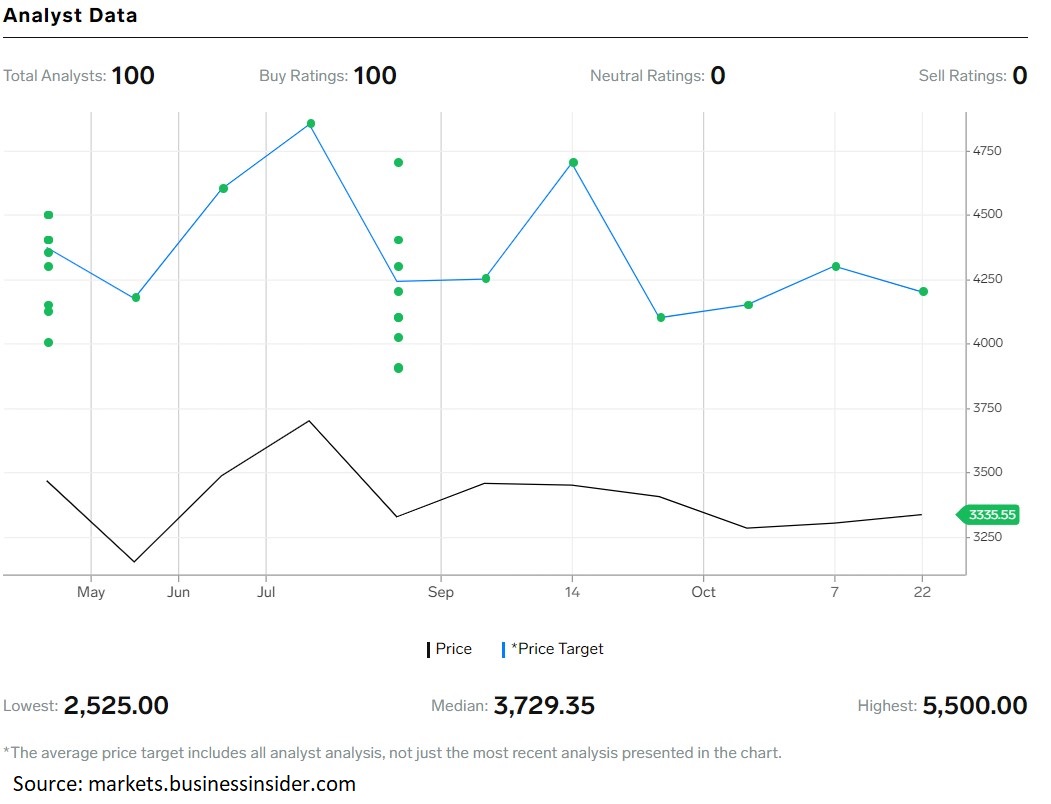 Amazon is one of the companies that benefited the most during the COVID-19 pandemic. As people were forced to spend more time indoors, online shopping increased significantly. Nowadays, Amazon has become one of the largest employers in the United States and kept expanding its workforce during the pandemic.
The company operates with a gross profit margin of 40.68%, slightly higher than the 35.79% sector median. It currently trades at a P/E ratio of 63.92, which perhaps explains the stock price consolidation in the past twelve months. However, the P/E ratio is expected to decline to 21.25 by 2025, so investors with a longer time horizon may find it appealing.
Credit: Source link