Accenture releases its quarterly earnings this week. The market expects EPS of $2.91 for the last quarter, and the stock price corrects from the highs ahead of the earnings release.
Accenture (NYSE: ACN) releases its Q4 FY2021 earnings this week. On Thursday,  investors will find out if the company has beaten estimates for the previous quarter or not. The market participants expect Accenture to deliver EPS of $2.19 on the quarter, higher by 28.54% compared to the same period last year.
Because this is the last quarter of FY2021, investors will interpret the yearly results and compare them to the ones corresponding to the previous similar period. Accenture returned $5 billion to shareholders in FY2020 and invested $1.7 billion in research & development and training.
What About the Accenture Stock Price?
Accenture stock price is in a bullish move, up significantly from its 2020 lows. The stock price has recently passed the $300 level. On its way higher, it set a new record-high just shy of $350.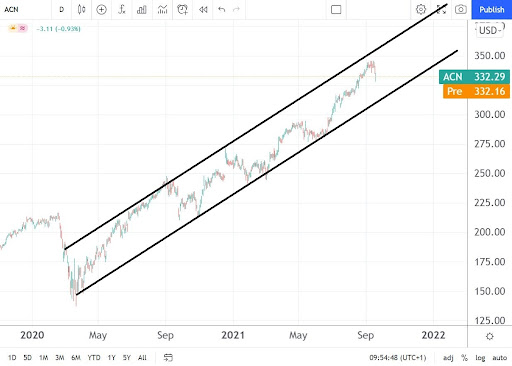 From a technical perspective, Accenture stock price remains bullish while in the rising channel. Only a drop below the lower edge of the channel and a daily settlement below $300 will turn the bias from bullish to bearish.
Accenture operates with a gross profit margin (TTM – trailing 12 months) of 31.99%, lower than the 49.04% sector median. This is a dividend-paying company with a dividend payout ratio of 40.06% and a growth rate for the last five years of 9.86%.
Accenture stock price is up 27.21% year-to-date and 40.69% in the last 12 months.
Credit: Source link