RR is set to boost its balance sheet from a short-term disposal, a longer-term engine order, and plans to help keep Britain's lights on with new nuclear reactors.
The following five-day price chart shows how the Rolls-Royce share price has soared by almost 40% in the past week. I'll tell you why this is, what the company does, why you should think about buying its stock, and where you can do so.
Source: Yahoo! Finance
What Is Rolls-Royce Holdings plc?
It's not what you think if you think that Rolls-Royce Holdings plc is a car company. The motor brand was spun out in 1973 and ultimately sold to BMW. Today's Rolls-Royce is one of the world's major designers and manufacturers of military and civilian aero engines and power generation systems.
Rolls-Royce Holdings is one of the FTSE 100 constituent stocks, listed on the London Stock Exchange (LSE) with the ticker symbol RR.
Why Have RR Shares Shot Up?
Three pieces of recent news have contributed to the rise in the RR stock price:
Last Monday, the company announced that it had sold its Spanish ITP Aero unit to a US private equity consortium, which will contribute to boosting RR's balance sheet by £2bn this year.

The company has also landed a contract to supply F130 engines to power the US air force's B-52 Stratofortress bombers, which could be worth up to £2bn over 30 years and almost £400m in the next six years.

The UK's Business Secretary, Kwasi Kwarteng, is set to approve funding for an RR-led consortium to construct a new generation of mini nuclear reactors to help combat the climate and energy crises. 
Should You Buy RR Stock Now?
The longer-term price chart shows how RR shares are now in an uptrend from the recent almost all-time low, with plenty of upside potential.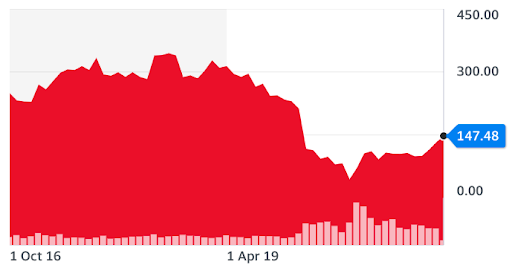 Source: Yahoo! Finance
The recent announcements suggest both short-term and long-term positive cash flow, so the fundamental case for buying RR shares could be as strong as the chart-based technical case.
Where Can You Buy RR Shares?
To buy RR shares, you'll want to choose one of the best online brokers, so check out these two now:
eToro
eToro is one of the world's leading multi-asset trading platforms offering some of the lowest commission and fee rates in the industry. It's social copy trading features make it a great choice for those getting started.
Register with eToro instantly
Pepperstone
Pepperstone was founded in 2010 in Melbourne, Australia by a team of experienced traders with a shared commitment to improve the world of online trading. Frustrated by delayed executions, expensive prices and poor customer support, they set out to provide traders around the world with superior technology, low-cost spreads and a genuine commitment to helping them master the trade. Their mission is to create a world of tech-enabled trading where ambitious traders can embrace the challenge and opportunity of global markets.
Register with Pepperstone instantly
Credit: Source link