RPM International (NYSE:RPM) was one of the first large-cap companies to report quarterly earnings in 2022. It missed the EPS estimates, but it delivered record second-quarter sales, has a strong free cash flow position, and pays a hefty dividend.  
RPM International is an American corporation from Medina, Ohio, operating in the specialty chemicals industry. It makes and sells products for pain contractors, among others, and it was founded in 1947. Its dominant market remains North America, responsible for 75% of its sales, but it has a worldwide presence.
The company released its Q2 FY2022 financial results yesterday. It missed the EPS by -$0.04, but it reported higher revenues by $84.84 million. The mixed results did not scare investors, as the stock price gained 0.34% on the day.
Nevertheless, this is a stock that underperformed in the last twelve months – it returned only +9.38%. However, despite that, here are a few reasons to buy RPM International stocks: record second-quarter sales, strong free cash flow position, and hefty dividends.
Record second-quarter sales
Despite missing the EPS estimate, RPM International reported record second-quarter sales of $1.64 billion, higher than the same period last year by 10.3%. Moreover, 3 of 4 operating segments have generated double-digit sales growth.
According to management, sales could have been even better if it weren't for supply chain challenges. The limited access to certain raw materials ended up in a cost of $200 million in sales on the quarter.
Strong free cash flow position
Another reason to consider RPM International stocks is the solid free cash flow position. It is estimated that free cash flow will almost double by 2024, putting it in a strong position in the years ahead.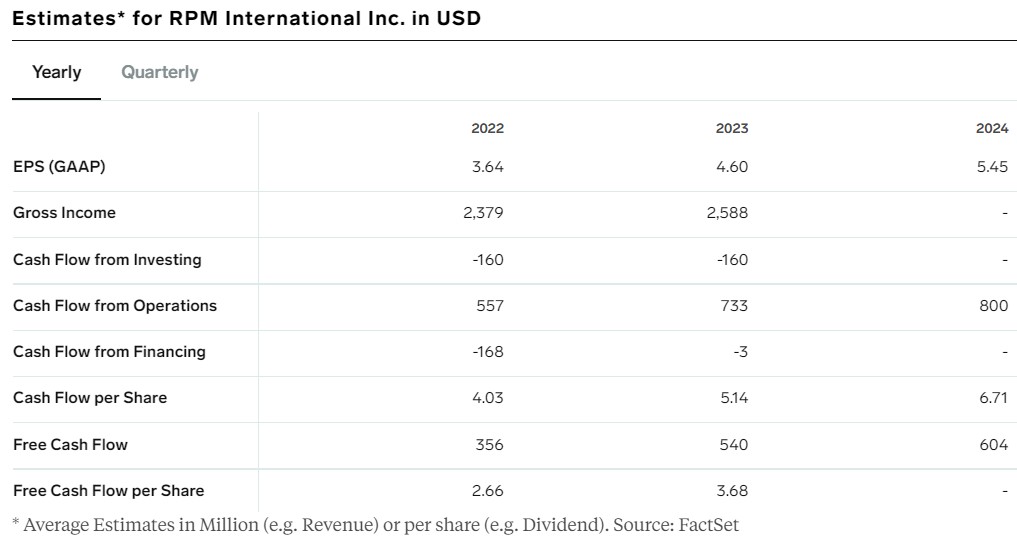 Hefty dividend
One of the most attractive aspects of this company is the dividend policy. It pays a hefty dividend with a dividend payout ratio of 43.33% and a five-year dividend growth rate of 6.48%.
At the current price, the company has a market capitalization of $12.60 billion and an enterprise value of $15.08 billion. Besides the attractive dividend policy, RPM International operates with a gross profit margin of 38.48%, higher than the sector median by 26.14%.
Credit: Source link